Goldendoodles are one of the country's most beloved new breed combos for their intelligence and affectionate temperament. Mixing the Golden Retriever and Poodle creates a well-balanced dog that is excellent for families! Most Goldendoodles are also hypoallergenic, making great companions for families and individuals with preexisting allergies. These gorgeous dogs have a lot of energy and require a decent amount of exercise daily.
Finding the perfect dog to bring into your family is already hard enough, never mind choosing where your new beloved puppy comes from. It is important to make sure you pick a Goldendoodle breeder that is professional and ethical. These 10 Goldendoodle breeders in Illinois not only have those qualifications but many more! These are my personal recommendations, but always use your due diligence and interview each candidate personally when selecting a good breeder.
1. Cherry Lane Doodles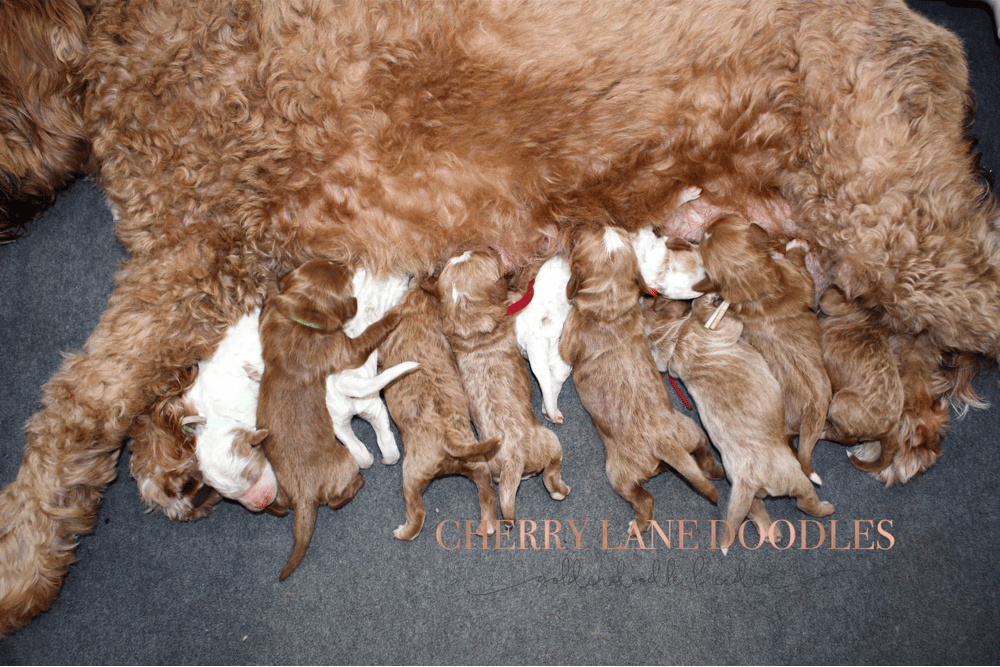 Based in Bleecher, Illinois, Cherry Lane Doodles is a family-owned organization run by Jeff and Stephanie. Each dog comes from an OFA (Orthopedic Foundation for Animals) health-tested and genetically sound lineage while also being a Champion Pedigree. The puppies are raised in their home with a combination of BAB (Badass Breeder) curriculum, Avidog, Midwoofery, and Puppy Culture. They are rated Good Dog Excellent for their ethical breeding which is the highest standing achievable in the Good Dog breeding community.
Cherry Lane Doodles breed standard, medium, and mini Goldendoodles. Both Jeff and Stephanie worked in Education in their early life, but Stephanie now stays home full time with the puppies. She has obtained her certification for Good Dog's Your Litter A to Z course as well as Badass Breeder's Puppy Aptitude Course and Badass Breeder's Membership Course. She has since been vetted by Badass Breeder and earned her Comprehensive Breeder Badge to become a Tier II Evaluation (the highest tier).
With all of these qualifications, Cherry Lane Doodles also earns their spot at the top of the list for raising their puppies in a family setting with three children socializing the puppies from birth. All puppies are sent home with a vet check, vaccinations and deworming, a two-year health guarantee, one-month free health insurance, as well as a small chew toy, scent cloth, and food to go home.
2. Chicago Goldendoodles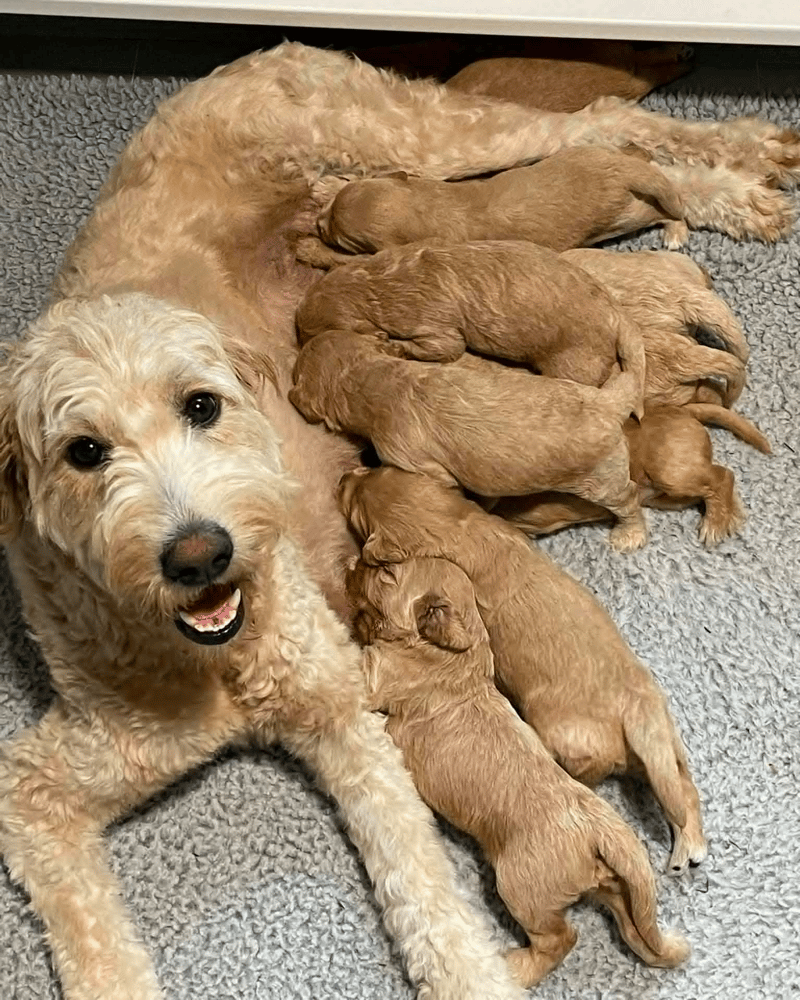 Although Chicago Goldendoodles is another reputable breeder on the list, they have quickly proven their high standing through their ethical practice and glowing testimonials. Kelly LeFevre runs Chicago Goldendoodles from her home with her family. They provide Petite, Miniature, Medium, and Standard sized Goldendoodles.
Puppies purchased from Chicago Goldendoodles are provided with a two-year health guarantee. They are also vaccinated and dewormed. One wonderful attribute of Chicago Goldendoodles is the time the family takes to ensure the early development of the puppies. Each puppy is given one-on-one time with Kelly and her family practicing training, socialization, and basic connections between human and companion!
Kelly and her family also take the time to teach the puppies valuable information and potentially life-saving recalls that she educates her clientele on before they head home with their new puppy. On the Chicago Goldendoodles website, they have provided an entire education tab with plenty of resources useful for new dog owners, and even some information specific to your new dog.
3. Bluebell Goldendoodles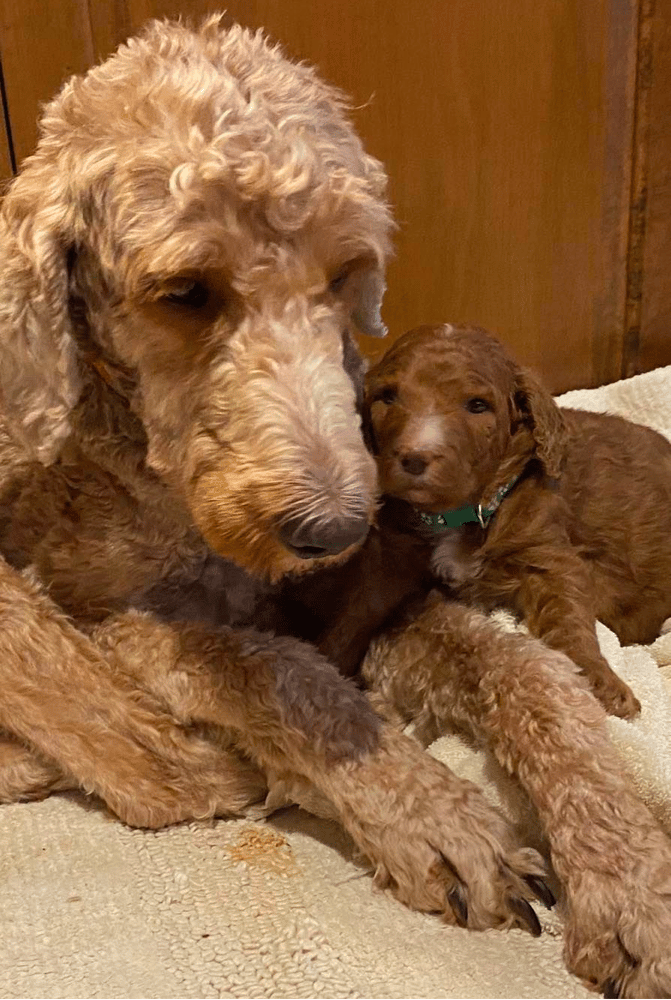 Each puppy born at Bluebell Goldendoodles is hand raised on their personal farm, giving the puppies room to roam and explore! Bluebell Doodles has been breeding Goldendoodles since 2009 but has experience breeding Poodles in the 1970s. The puppies are also socialized with the owners as well as their children and grandchildren from the day that they are born. They raise standard F1b Goldendoodles.
Run by an older couple, the entire family gives 24/7 care to the puppies. This means they received plenty of love and affection and playtime with the kids! Being raised on a family farm gives the puppies space to properly exercise and get some much-needed fresh air.
The family requires you to plan and pick up your puppy personally, and will not send home a puppy unless they meet you first. This shows how much they truly care about each puppy and their safety even after they are out of their care. The puppies are vaccinated before going home and a 72-hour vet check is required. Bluebell Goldendoodles is a Good Dog Good Breeder and has one of the lowest prices on the list, each puppy being sold for under $2,000.
4. Erica's Doodles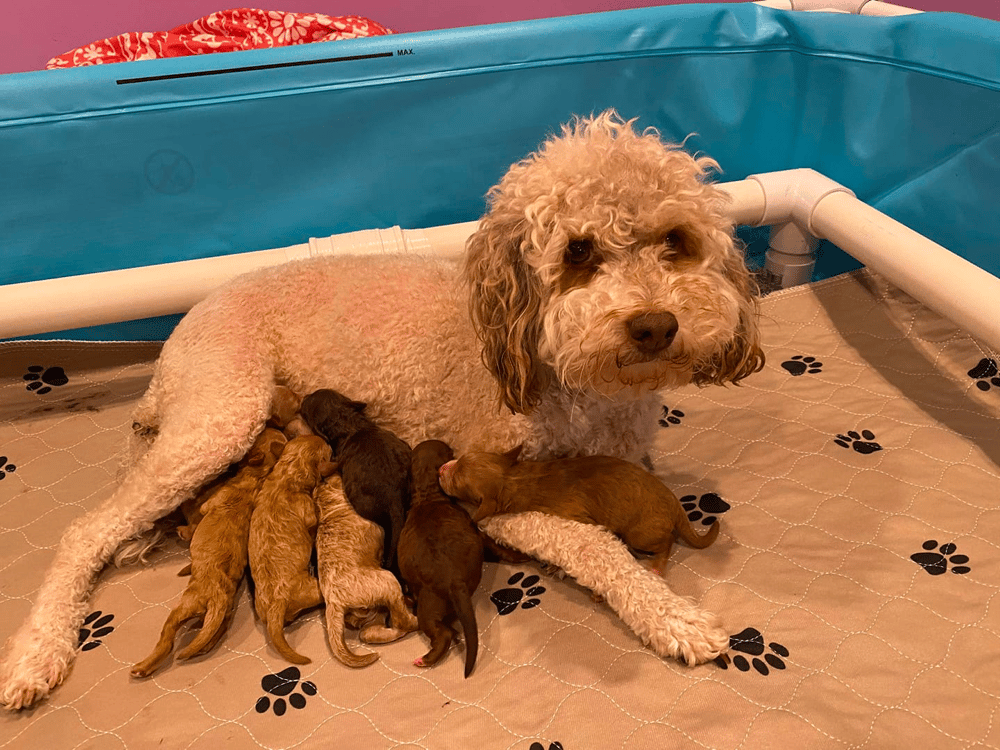 For over twenty years Erica's Doodles have been ethically breeding and hand-raising Doodle puppies. They are a family of six and each member has hands-on experience with the puppies every day. All dogs are OFA (Orthopedic Foundation for Animals) health tested and Champion Pedigree.
The puppies are born and spend the first weeks of their life in a nurturing environment with their mother at all times. Erica and her family have dedicated their lives to ensure all puppies are healthy by being fed a nutritious diet and receiving medical care as young puppies. The puppies even spend one-on-one time training with Erica and her family before you even meet them!
Every puppy from Erica's Doodles goes home with deworming and vaccinations, a leash, collar, toy with mom's scent, and a two-year health guarantee. They also offer to extend the health guarantee to three years if you continue to use the recommended food, Life Abundance. The puppies also begin crate training and potty training with Erica and her family!
5. Massbach Mesa Doodles
Family-owned for thirty years, Massbach Mesa Doodles is operated out of the farm home in Stockton, Illinois. The owner and mother of the family is Terese, a nurse who fell in love with a dairy farmer and moved to the farm to raise her two children. The family began breeding Border Collies and did so for fifteen years until they discovered their love for Goldendoodles.
The parent dogs are a part of the family, creating a well-rounded atmosphere to socialize all the new puppies! They ensure the mother receives postpartum love and care after each litter. The mothers are only bred as Mother Nature calls, therefore the litters are more inconsistent but the mother is more comfortable. Each puppy is sent home with a two-year health guarantee.
The dogs at Massbach Mesa Doodles are all health tested and temperamentally evaluated to ensure happy healthy pups. The interested clientele does have to fill out an application and will be selected to take home a puppy if Terese and her family think you are fit to do so. Since each dog is their personal family companion, they want to ensure all of the puppies go home safely.
6. AKA Doodles and Poodles
Since 2002, the owners of AKA Doodles and Poodles, Matt and Amy, have been breeding healthy Doodles in their family home. The letters in AKA stand for each of their daughter's names – Amanda, Katie, and Abby. All of the kids and grandkids in the family help in the caretaking, training, and socialization of the puppies. They breed miniature, medium, and standard Goldendoodles. Since the puppies are born and raised in the family home, they leave healthy and well socialized.
The family lives in a spacious home with the land where the puppies are raised to explore. With no kennels in sight, the dogs and puppies are free to live happily, loved lives as family companions. The puppies are socialized early by dogs outside of their litter as well as humans alike.
The puppies from AKA Doodles and Poodles go home with a two-year health guarantee. They also receive vaccinations and deworming prior to going home. AKA Doodles and Poodles either send the puppies to home spayed or neutered or requires a strict Spay and Neuter contract. Many of their dogs have received their Canine Good Citizenship award, Therapy Dogs International, and are in elementary schools with the Reading for Rover program.
7. Doodle Bug Doodles
Doodle Bug Doodles have been breeding doodles from their home since 1982. They send home puppies with a complete vet check, as well as updated vaccinations and deworming. The puppies must be picked up at their home, which is where the puppies are bred and raised. They provide F1b miniature and medium Goldendoodles.
The puppies at Doodle Bug Doodles are immediately integrated into the family as their own! They have very few parent dogs which does mean the litters are farther in between, but this leaves more time for the puppies to receive extra love and care. In the first few weeks of the puppy's lives, they are given a warm and loving introduction to the family lifestyle!
For over twelve generations, the bred Goldendoodles have been OFA (Orthopedic Foundation for Animals) health tested. The parent dogs are family companions. The puppies begin potty training and crate training in her home. Uniquely, Doodle Bug Doodles actually takes the puppies on their first car trip at approximately seven weeks of age to get them accustomed to the car. Most of their puppies are also sold for under $2,000, with the exception of one variation.
8. Central Illinois Doodles
Central Illinois Doodles is a family-owned operation run by John Jess based out of Arthur, Illinois. Since John was young he had a passion for breeding dogs due to fond memories of his childhood family dog delivering puppies on multiple occasions. After getting married and having their first daughter the couple decided to start breeding in their home to share the wonderful childhood full of puppies that John had himself. The family raised each puppy by hand, in their home and ensured they were given medical care throughout the first few weeks.
The Jess family provides miniature Goldendoodle puppies with extensive health testing and temperament screening of the parents. The puppies are born and raised in a spacious country setting, giving lots of room for growing and playing! The puppies are given a strict socialization protocol from the moment they are born so they are accustomed to children and commotion before they go home. Each puppy is given a 2-year health guarantee.
9. The Paw Pad Doodles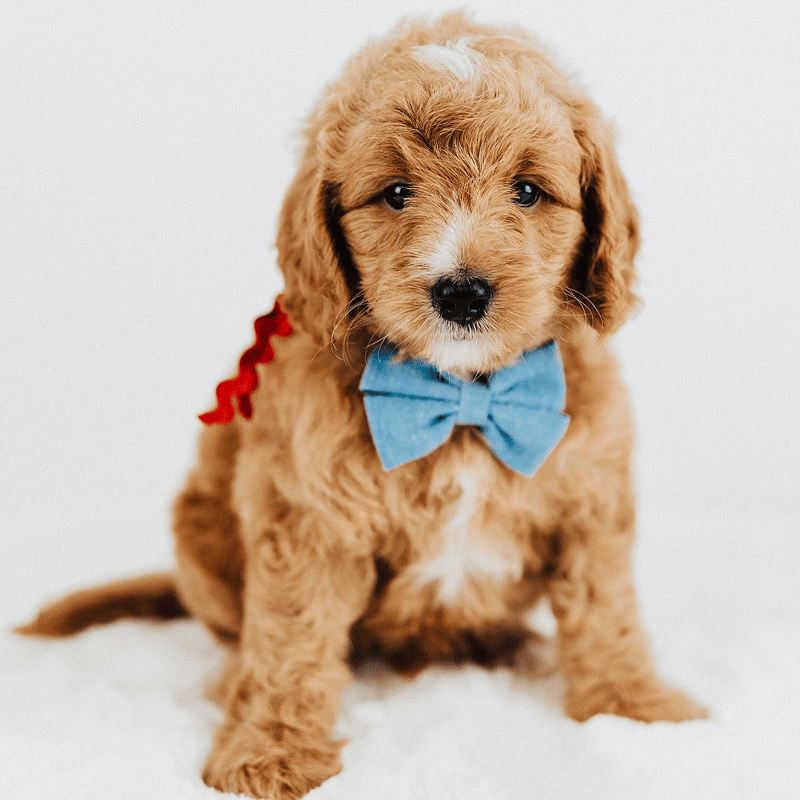 Having a hard time deciding what variation of Goldendoodle you are looking for? The Paw Pad Doodles provides all four sizes and four generations of Goldendoodles. The four sizes provided are toy, mini, medium, and standard while the four generations are F1, F1b, F2b, and F3. On occasion, they do provide a fifth generation, F1bb.
Although this is the first kennel on our list, the facility is spacious and clean. The dogs have someone with them at all times, elevating the concern of dogs and puppies becoming isolated in a kennel setting. The puppies and parent dogs are taken out as frequently as possible for socialization, exercise, medical care, and grooming.
Christine and Kieth Phillips have been running their business since 2003 from Deer Creek, Illinois. They currently have five children and fifteen grandchildren, the majority of which have a hand in the business. They have around-the-clock care as well as a groomer on staff and a veterinarian technician on staff at all times. All of their dogs are OFA (Orthopedic Foundation for Animals) health tested.
10. Dominator Dogs
Doris and Jim Cocallas founded Carriage Hills Kennels in 1961. Their son Chris and daughter Francine now run the kennel after their parents' passing. Over forty years ago Chris decided to sell his puppies and thus began Dominator Dogs. Chris is now an AKC-registered breeder with one of the cleanest facilities in the Chicago area.
Carriage Hills Kennels is also a facility where the dogs live instead of in a home. Although they are born and raised in a kennel, Chris does have decades of experience and intentionally breeds a smaller amount of dogs to make sure they get the love and attention they need. His son is actually a dog trainer who personally operates The Crafty Pup and helps the puppies as they grow and develop.
Dominator Dogs currently provides standard-sized F1b Goldendoodles. Since Goldendoodles are not recognized by the AKC, the puppies are not certified but the parent Poodles and Golden Retrievers are AKC registered dogs. Puppies go home vaccinated, microchipped, and dewormed. When you purchase a puppy you also receive a free online puppy training video course from The Crafty Pup. The dogs also receive a two-year health guarantee.
Which is The Best Breeder For You?
Ultimately, the search for your perfect new companion is going to be lengthy and this is a question only you can decide after researching and interviewing breeders for yourself. Each breeder is different, but so is each puppy as well. After spending a great length of time researching these breeders and creating this list, I personally placed Cherry Lane Doodles at the top due to their raving testimonials, family setting, and hours of dedication and hard work shown in certifications and qualifications.
Each of these breeders selected would make wonderful choices for your new Goldendoodle puppy, based on ethical breeding and customer satisfaction. With these resources on hand, it should become a breeze to find your new best friend!
Goldendoodle Breeders in The Other States Near Illinois
Goldendoodle Resources
Other Dog Breeds