There are a lot of reasons why they love the Goldendoodle breed. For starters, it comes in a wide variety of coat colors. This can range from solid-colored coats like cream and apricot, to tri-colored coat patterns that are truly beautiful.
Another would be the fact that they come in a wide variety of sizes ranging from standard to medium to mini and toy or petite sizes. And lastly, which I feel is the most important reason is that their coats are low shedding. They are hypoallergenic which means dog owners who have a strong allergy to dog fur can live comfortably with the Goldendoodle designer breed.
For residents of the sunflower state of Kansas and you are searching for a Goldendoodle breeder to adopt a puppy from, then you might have to search a bit deeper. The breed is quite new to the state, as there are not many breeders. But that's what this article is for.
We provide a list of some reputable Goldendoodle breeders residing in the state of Kansas. These are reputable breeders that truly care for the breed. They produce happy puppies making a lot of families in Kansas happy.
1. Golden Ridge Goldens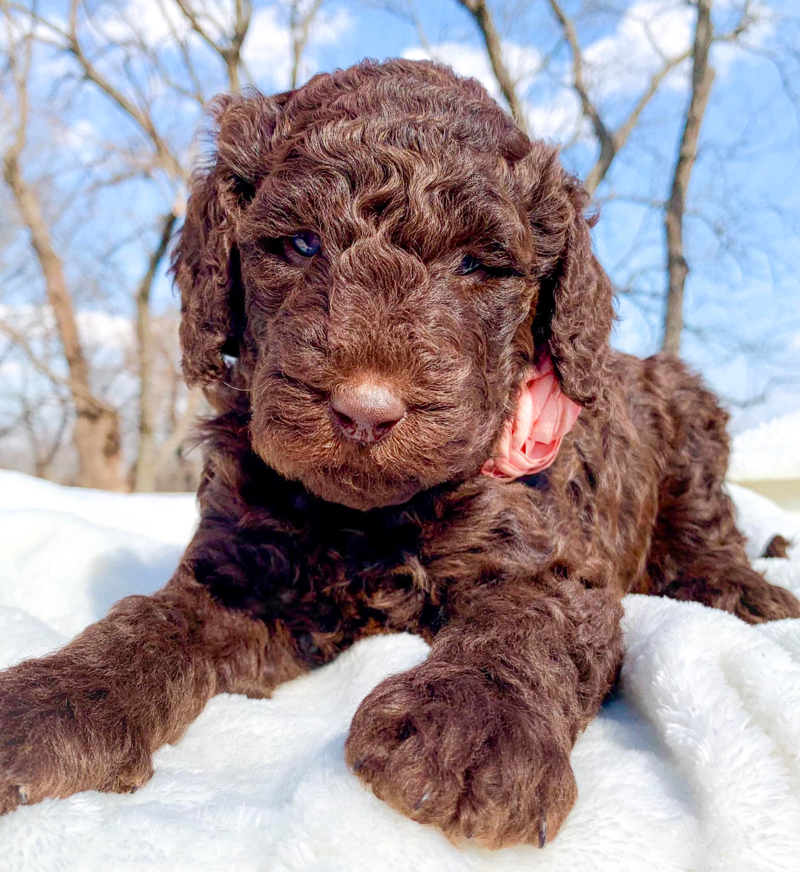 Golden Ridge Goldens are the first breeder on our list of Reputable Goldendoodle breeders residing in the state of Kansas. These are reputable breeders that are located in Osage City of Kansas state. Their Goldendoodles first started to provide families with puppies of low-shedding fur, but they slowly grew to love the designer breed. Aside from having Hypoallergenic coats, their over 9 years program has been able to produce puppies that are also very intelligent and are blessed with the needed temperament that makes them loveable family companions as well as beautiful dogs with excellent conformation.
The puppies are raised in Osage City in Kansas, their family home where they are socialized every single day with family members as well as with a wide range of socialization protocols. The puppies get to experience Puppy culture as well as the training program that is the Baxter and Bella. They also get exposed to different new environments and are each taken on walks where they get to take in the sights, feel different textures, and a whole lot more. The puppies are also well-fed and are well exercised.
Their breeding program contains Golden Retrievers, Poodles as well as Goldendoodles that each come from decent lineages and each possess decent pedigrees. The puppies dogs are bred on a few occasions to allow enough time between sessions as well as to allow enough time to focus on each individual puppy. Every breeding parent is properly health-checked through Embark Genetics. They also have their full health certifications for decent hips, elbows, and hearts as well as eyes.
All their puppies would go home with a health guarantee. Since they are AKC affiliated they ensure the puppies are microchipped and also ensure the puppies are well vaccinated and dewormed before leaving for their new homes.
Golden Ridge Goldens Contact Details
2. My Dream Doodle
My Dream Doodle is a rather new breeder but they have been breeding for over 3 years. They are located in Southeast Kansas and are run and operated by Joanne and Scott. The breeding facility focuses on Goldendoodle puppies that are truly unique. Their puppies are so intelligent they can be trained to be service, work, and even hunt dogs. Their Goldendoodles are blessed with the Apricot coat color as they are after the teddy bear look that makes the Goldendoodle much more attractive. But Joanne and Scott are experts in the animal world and their experience and overall love for the breed is what fuels their program.
All their puppies come from decent breeding lines. Their breeding dogs are treated as family members and are shown all the love and attention they require. They are genetically tested for health conditions that would naturally be a problem for the newly produced litter. All their puppies are also certified to have good working hips, as well as good working eyes and hearts all, tested and certified by the OFA. This is to ensure that only healthy puppies are bred through their program.
When it comes to how they raise their puppies, the brunt work is done in their home in Kansas. There the puppies enjoy living in a family and interacting with people of various age groups. The puppies are well socialized through socializing protocols like Early Scent Introduction alongside Early Neurological Stimulation. Each puppy gets to experience living in a temperature-regulated environment. They are taken on regular walks and are exposed to a wide variety of textures and sounds. The puppies also get to experience basic potty training before leaving for their new homes.
Every of their puppies comes with a written health guarantee. They are also checked by a licensed vet, have their vaccination and deworming records updated as well as their dew claws removed at an early age.
My Dream Doodle Contact Details
3. Four Paws Doodle Ranch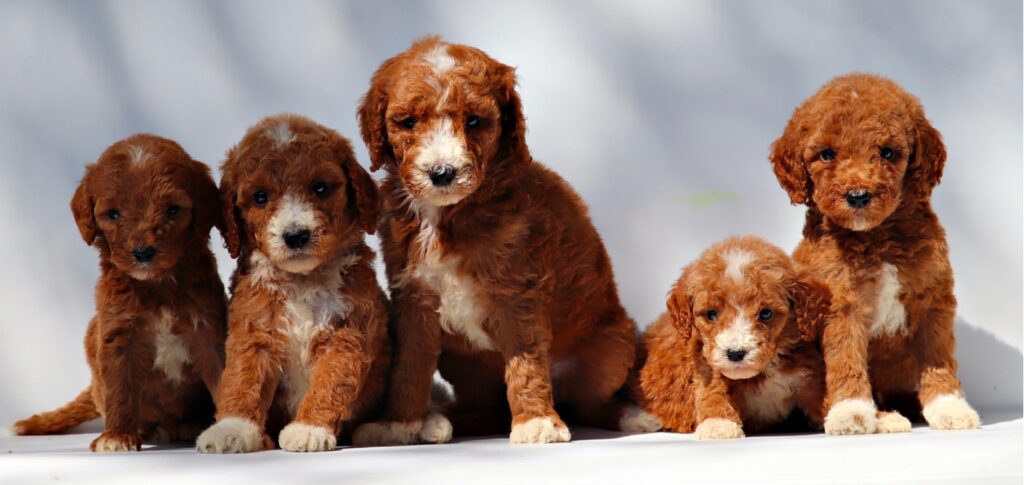 Coming in 3rd on our list Of Goldendoodle breeders residing in Kansas state, we have Four Paws Doodle Ranch. The breeding facility is owned and managed by Holly Miller and has been dedicated to the Goldendoodle for close to 10 years. Their breeding program which is located in the serene Peabody, Kansas is focused on breeding puppies that not only make great family companions but are a source of happiness to everyone around them. Their Goldendoodles are from the F1b generation where they are guaranteed their nonshedding fur and are also guaranteed of having hybrid vigor.
All their puppies are raised in their family home which is a large 200-acre property where they are loved and provided with all the attention and love they require. The puppies are well-fed and are placed on nutritional supplements that are truly wonderful for their overall growth and strength. Each Goldendoodle puppy from Four Paws Doodle Ranch is properly socialized using socialization protocols like Puppy culture to help ensure the puppies are well-behaved in new environments. The puppies are also exposed to new sights, textures, and sounds.
They operate a rather strict breeding program this is filled with AKC-registered sires and dams. These are their dogs with impressive breeding lineages filled with numerous AKC titles added to their already impressive pedigrees. They are genetically tested before being added to their breeding program and they each enjoy tests from PenHipp, The OFA, and CERF to show they are truly tested and certified to have good functioning hips, elbows, patellas, and eyes. The breeding dogs are at the pinnacle of health.
The puppies are health-checked and certified by a licensed vet to be clean and healthy. They come with a 2 years health guarantee and they each have their full vaccinations as well as their dewormings received.
Four Paws Doodle Ranch Contact Details
4. My What A Doodle
My what a doodle is the 4th breeder to make it to our list. They are a top-notch Goldendoodle breeder that produces premium pups for the family. The breeding facility is quite old with over 15 years of experience and it is managed by Sharon Dawgma. She and her team of breeders produce beautiful Goldendoodle pups of the Apricot colored teddy bear look and mini sizes that make the puppies cute. The puppies are well-structured puppies from both the F1 and the F2 generations.
All their puppies come from decent family lineages that are quite blessed and decent. The sires and dams being used in their program are top-notch. They are vetted based on their health, their intelligence, and their temperament before being added to the breeding program. For health, the sires and dams undergo rigorous genetic health screening for over 120 different possible genetic health issues that could trouble the Goldendoodle litter. The puppies are also tested for eyes, hips, elbows, and hearts by the Orthopedic Foundation for Animals.
The puppies are raised in a family home in Kansas State where they are loved and cared for. The puppies are properly trained to ensure that they not only are energetic and playful but they can be well behaved when living with their new families. The puppies get an early introduction to Puppy Culture through Early scent introduction and Early Neurological Stimulation. They are completely exposed to new environments, situations, sights, and sounds to help improve their socialization. You definitely get a well-rounded puppy.
My What A Doodle ensures that all their puppies come with a written health guarantee. The dogs are also health checked by a licensed vet and each comes with their vaccinations and deworming records fully updated.
My What A Doodle Contact Details
5. Diamond Country Dogs
Diamond Country Dogs are the 5th breeder taking our spot on our list of the most reputable Goldendoodle breeders residing in the state of Kansas. They are quite new to the Goldendoodle breeding world with only a few years of breeding experience. However, their breeding program is top-notch as they have managed to produce premium Goldendoodle puppies for numerous families in numerous locations scattered across Kansas and the United States as a whole. Their pups make excellent family dogs as they are well-tempered, loyal, and playful. They are also easily trainable so you won't have a difficult time teaching them tricks.
Every Goldendoodle puppy is raised on a large farm alongside other animals like horses and cattle. Every puppy gets to eat good food with supplements that are guaranteed to help boost their immune systems. During the first weeks of being born the puppies start socialization immediately as they get to be carried by members of the family and nurtured. As they grow older they get introduced to a wide range of socialization protocols starting Puppy Culture. To help ensure the puppies are well-behaved, they also go through potty training.
All sires and dams are either Golden Retrievers or Poodles. This is because they care so much about hybrid vigor and won't want to dilute the breed too much. Some of their puppies are born with hypoallergenic coats, so families with dog fur allergies would have a family friend they can be comfortable around. The sires and dams are also genetically health tested for a series of health defects that could be transferred down the newly produced litter. Their certifications are also available on request.
The puppies all come with a one-year health guarantee. They would also be vet-checked before being taken to their new homes. They would have had their dew claws clipped and would be fully vaccinated and dewormed.
Diamond Country Dogs Contact Details
6. Honey Doodles of Kansas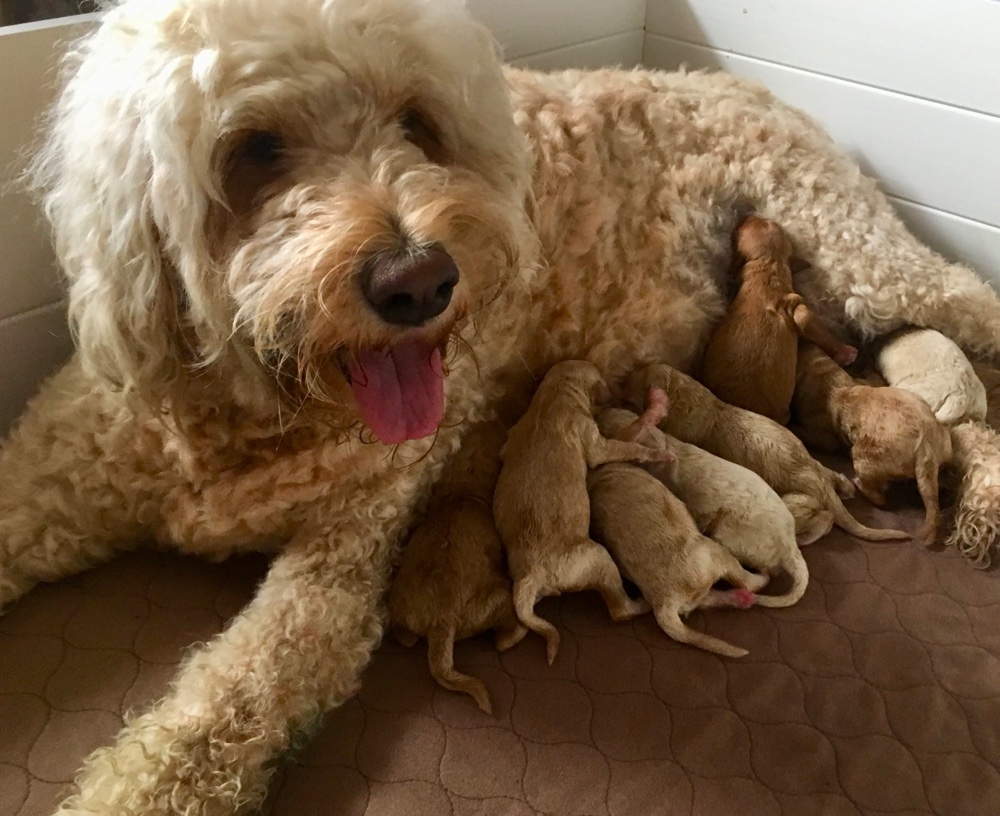 The 6th and final breeder on the list of some very reputable Goldendoodle breeders located in Kansas is none other than Honey Doodles of Kansas. They are located in Wichita Kansas where they have built a solid reputation as solid Goldendoodle breeders with a lot of love for the breed. Their puppies are of premium quality as they breed healthy dogs that are well-tempered and quite intelligent so they are easy to train. They breed all coat colors but they are mainly focused on the Golden brown coat colors that also give off the Teddy bear look. The puppies are of the F1 generation with hypoallergenic coats so they are perfect for all families.
They have a rather flexible breeding program which they have been running for over 7 years. Their focus is getting the right sire and dams that would produce excellent puppies while still maintaining the breed integrity of the Goldendoodle. To achieve this, they go as far as importing Goldendoodles from within and outside Kansas as well as collaborating with breeders which have been thoroughly researched and found to be breeding according to the appropriate standards. Their puppies are health tested as well as genetically tested. They also have full certifications in OFA and CERF.
Honey Doodles of Kansas does not believe in raising puppies in kennels. They find that it defeats the purpose of socializing the puppies. This is why the puppies are raised in their family home where they get all the socialization they need without even trying too hard. The puppies get to interact with people every day. They are also exposed to various stimulating textures and experiences and are given the appropriate food and supplements for proper growth. They also enjoy some level of exposure to training protocols from Baxter and Bella training tools.
All their puppies are guaranteed to be free from genetic health issues and hips, elbow, and eye defects. They are well vaccinated receiving all their shots. They are also dewormed and microchipped and each has their dew claws clipped at an early age.
Honey Doodles Of Kansas Contact Details
My Top Pick
Although Kansas states are not known to have too many Goldendoodle breeders, one thing is certain. The designer breed is widely gaining popularity in the Sunshine state. My personal pick from the list of Goldendoodle breeders residing in the state of Kansas is Four Paws Doodle Ranch.
Everything about Four Paws Doodle Ranch seems to be interesting. From their large property in Peabody Kansas which is over 200 acres so the puppies have enough space to explore, to the rigorous genetic testing they perform on all dogs to ensure they are indeed healthy and free from genetic health defects.
Another cool thing about Four Paws Doodle Ranch is the level of socialization protocols they offer each puppy. You are guaranteed to have a well-socialized family friend that makes an awesome companion and friend.
Still, don't just take our word for it. It helps to perform more detailed personal research on each breeder before choosing to work with them. You would be living with the puppy so always ask the right questions and demand the right certifications from the breeder.
Recommended Goldendoodle Resources
Goldendoodle Breeders in The Other States Near Kansas