Goldendoodles have a great reputation for being gentle, sweet, and loving. This is a breed that loves to play and learn, and they are relatively low maintenance when it comes to shedding and coat care. You will find that there are so many reasons that you might want to get a Goldendoodle when compared to other breeds. If you have decided that this is the dog breed for you, you have probably started to look around at the breeders of this dog in your area.
Finding the right Goldendoodle breeder doesn't have to be a struggle. These breeders will provide you with access to quality dogs, and they will also be professional and nice to work with. All of these factors need to be present when you are looking to buy from a breeder. Always be wary of breeders who are not very responsive or breeders who cannot certify their dogs for health conditions. Puppy guarantees and other standard documents should also be offered when you put down a deposit.
Looking for your Goldendoodle can be simple when you use this guide to make your choice!
Goldendoodle Puppies For Sale in Indiana
All of these breeders work hard to make sure that you love your new dog and that it fits right into your home with ease. Make sure that you ask any questions that you might have well before you place your non-refundable deposit. You will also want to be sure that you are familiar with the puppy guarantee and deposit process at any breeder that you are thinking of working with to get a puppy. The more that you know about your breeder, the better your overall experience will be with the puppy selection process.
Most breeders are very eager to speak with new people about their dogs, so you should be cautious if the breeder does not seem like they are engaged or if they seem to be hiding information at all. You really should never get a dog from a breeder that is not willing to be open and transparent with you. Do allow for how busy these breeders are, and do not get mad if they do not get right back to you.
1. Hilltop Pups LLC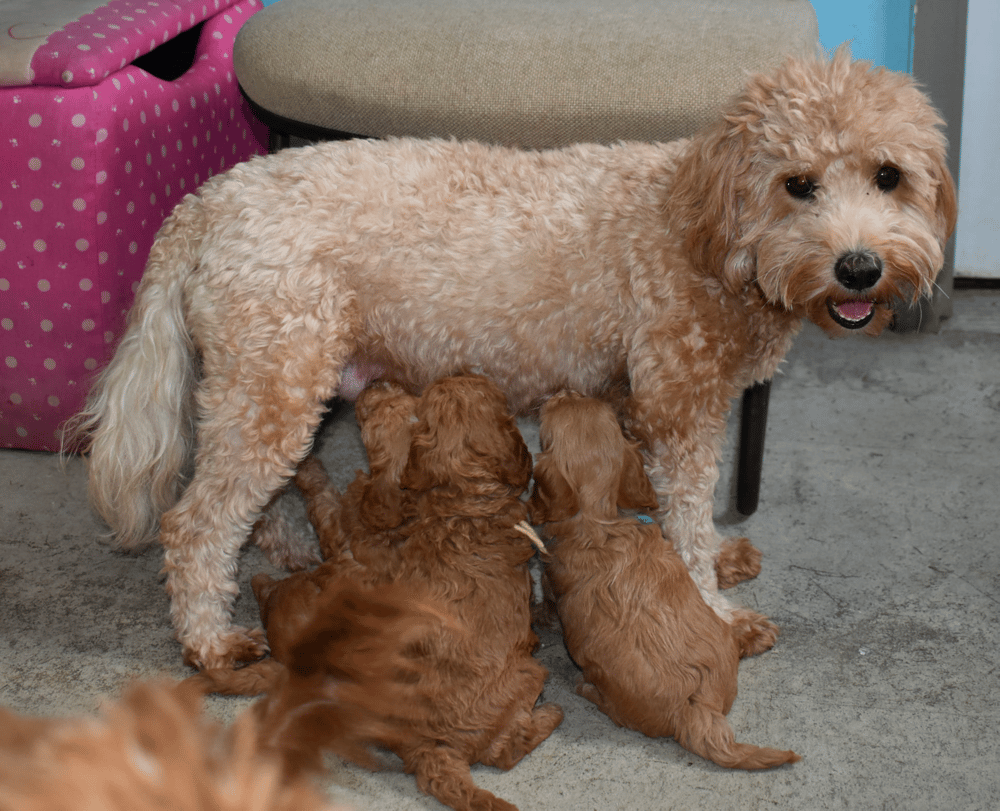 This is a great breeder to choose for dogs with awesome personalities. These dogs are used for pets as well as service animals, and the breeder focuses on them being healthy and personable. You will get a puppy that has been well-socialized, and that is ready to move in with your family without any issue. The breeding location for this operation has 80 acres, and puppies are allowed to play, grow, and learn about life. The breeder is very connected and interactive with customers and stands behind their animals with a quality puppy guarantee.
There are different generations of Doodle bred here, so you can choose from different generations as well as mini dogs. You will want to check about the pricing for these different dog generations and sizes on their site. No matter what size dog you get, they will be handled for two months and given training during this time before they will be released to you. This is to ensure that they can succeed in their new life with you, and it helps make the transition to a new home better for the puppies as well.
You can opt to look for a dog that is an F1, a mini, petite, or micro when you work with this breeder. The prices are different for each size, so make sure that you are informed about this part of the process before you put a hold on a puppy. The different sizes of dogs might also have slightly different coat patterns per litter, so make sure that you do mention if you have a specific coat or color preference that you are wanting to wait for. This is important information for the breeder to know so that they can put in the right puppy waiting line.
2. Sunshine Acres Goldendoodle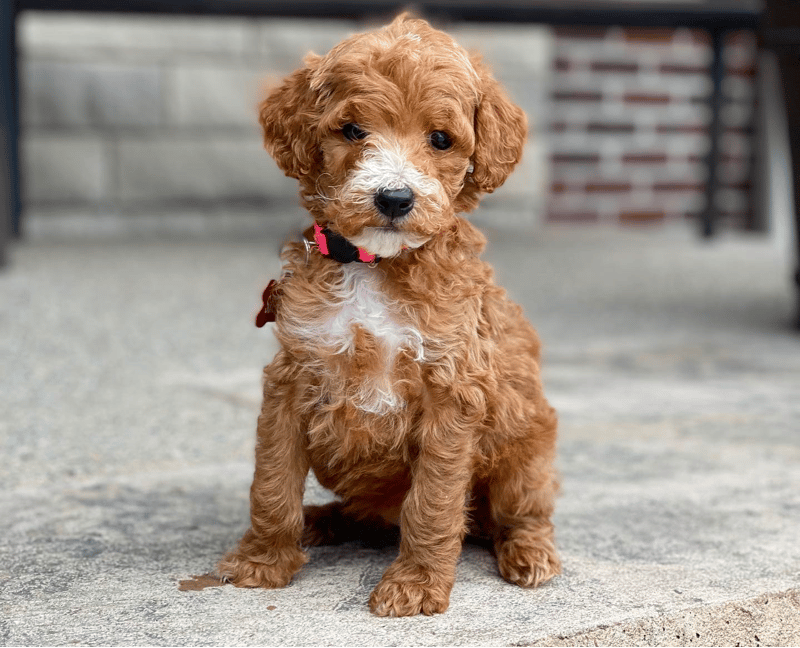 This is an expert breeder that creates a lot of litter each year and who has a very well-crafted process for delivering dogs to new owners. They breed non-shedding Goldendoodles that are beautiful, healthy, and friendly. You will be able to get proof of a vet check and approval to release your puppy to you when you pick them up as well as a new puppy care package when you take your dog home.
Dogs that are bred here are given a full health check, are wormed, and vaccinated before they are released to new owners. This is a quality operation that takes the time to verify the health and well-being of every dog before it is sent to its new home with its new owners.
The testimonials for this breeder say it all, and people come back to them over and over again to get a healthy dog that loves their family. The breeding that is done at this location is carefully managed to make sure that the best Golden Retriever, Irish Setter, and Poodle parents are blended to make litters. This means that you will not have to worry about a lot of inbreeding or any kind of health defects being carried down through family DNA.
This breeder is really transparent about their process and is always eager to help new people to get involved with this breed. Make sure that you reach out to them if you have questions and start the process of getting to know this breeder before you put down a deposit. They will be happy to help you to have a great puppy selection process.
3. Gertie's Goldendoodles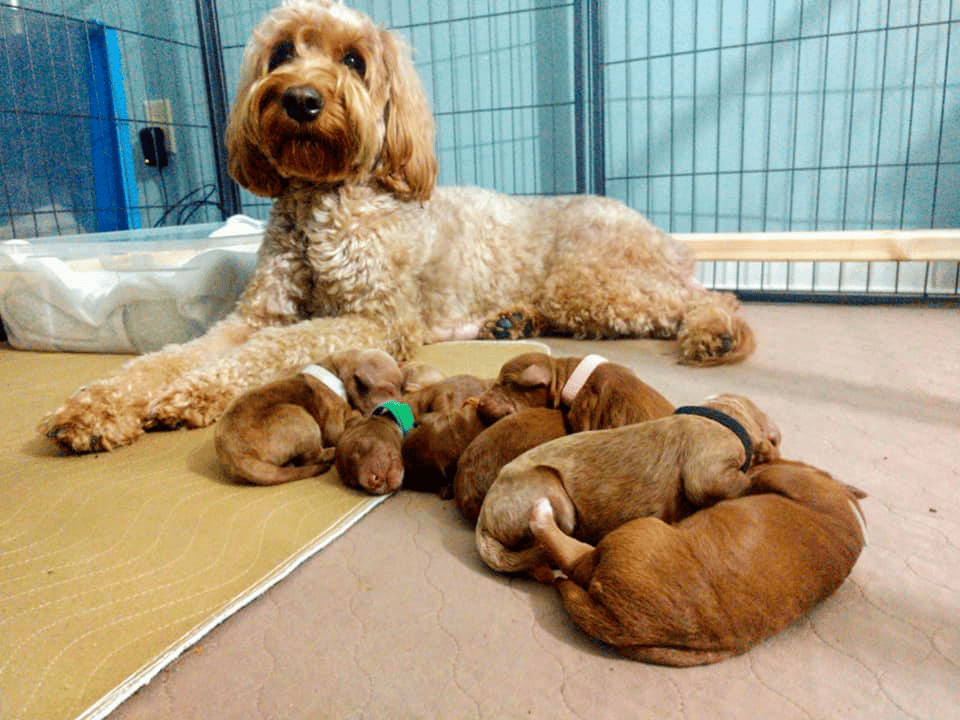 This is a very professional breeder that takes the time to certify their parent dogs as being free from defects. They also operate a full-time training program alongside their breeding program, so you can count on your puppy to be well-prepared for anything that life can throw at them when they get to your house. This breeder also conducts temperament testing at 49 days of age on every dog to be sure that they can tell you in detail about the personality of your puppy. This is a cornerstone of how the puppies that are bred here are paired up with the right people.
There are few breeders so professional or with such a great puppy guarantee in this part of the US. You will want to make sure that this breeder is at the top of your list when you are shopping around. This is one of the best places to head for a Goldendoodle that has been carefully genetically tested and trained for maximum success in life. Buying from a training operation means that you will get a dog that is ready to take on any challenge and that has been exposed to a lot of skills and experiences before coming to live with you.
For people who want to have a good foundation of educational experiences in place when they get their puppy, this is the right breeder to work with. This is also an operation that makes sure there are enough hands on deck to take care of the dogs that live here. You can trust that your puppy has gotten everything it needs and more from this team.
4. Cotton Wood Goldendoodles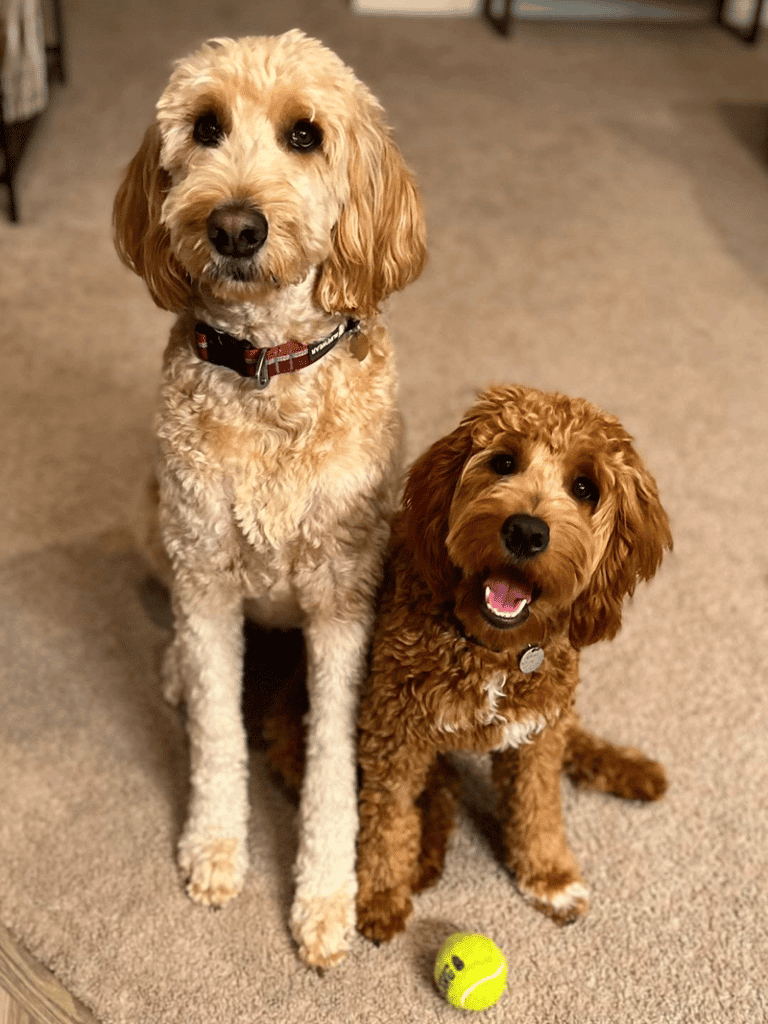 This smaller breeding operation is focused on creating dogs that are sweet, loving, and ready to head to new homes. They have a 5-acre ranch that the puppies can play on, and they love to introduce new people to the breed. The waiting times might be longer because of the smaller size of this operation, but that is probably worth it in exchange for a puppy that has been very well-socialized, and that has been bred with such care. There are few boutique breeders who give as much time to their dogs as this one does, and you will have a great experience working with this breeder.
The puppies that are delivered from this business will be wormed and have had their first vaccines. You will also get a puppy health certificate and some suggestions about how best to proceed with care. The love and attention that your dog has been getting from the breeder will be easy to translate to your home environment due to the support that you will get at pickup.
This breeder takes a lot of pride in pairing dogs with the right families, and you will get a really personalized experience when you work with this breeder. The wait times for puppies are well worth it because of the kind of personalized experience that you will get working with this family. You will love the process of getting the dog you have been looking for from this breeder.
5. Pandora Doodles
This breeder creates litters of medium F1s as well as Mini English Teddy Bear Goldendoodles. These are specifically bred dogs that are curly, redder in color, and so cute! They also have some other coat patterns that you can select from if you want to wait for a dog of a specific color. They have nanny dogs that help with socialization, and the puppies are handled a lot and well-prepared for their new lives with their new owners.
This breeder does the proper health check and genetic testing for healthy litters, and you can count on them to let you know if your puppy is not going to be right for your needs after they have done testing on new litters. This is an honest breeder who is passionate about their work, and you will love working with them for your next puppy purchase. OFA testing is done on all puppies, and you can get your report for your puppy when you pick them up.
The Teddy Bear minis are related to English Golden Retrievers, which means that they have fewer healthy struggles than dogs that trace back to American Golden Retriever parents. This is a great choice for a breeder that creates very cute and sweet dogs that you will love adding to your home. There are not many things as adorable as a Teddy Bear Goldendoodle, and as soon as you see them, this might be your first choice for your new pet.
6. Danes & Doodles
This breeder offers both Great Danes and also F1 and F1b Goldendoodles. The coat patterns are a bit different for these two variants of this breed, and the F1b is fully hypoallergenic, which can be great for those with pet allergies. These are larger dogs that are beautiful and sweet and playful and fit right into families with ease. This breeder offers a full guarantee and contract that is easy to understand and work with.
You will also appreciate that this breeder does create more than just a few litters a year, so you will not have to wait as long for a puppy as you might when working with smaller breeders. The animals here are well-handled and given all of the right veterinary care before they are released to you. If you have questions about which generation of dog you might want to pick, you can reach out to the breeder and inquire about more information. The careful breeding that is done here can be trusted to make sure that you will get the right healthy dog for your family, no matter which generation you decide to pick.
Having some options to choose from here is really nice, and the breeder can guide you toward the best choice for your needs. You will get an almost personalized buying experience here that will make you glad that you chose this breeder for your new dog.
7. Railway Acres Doodles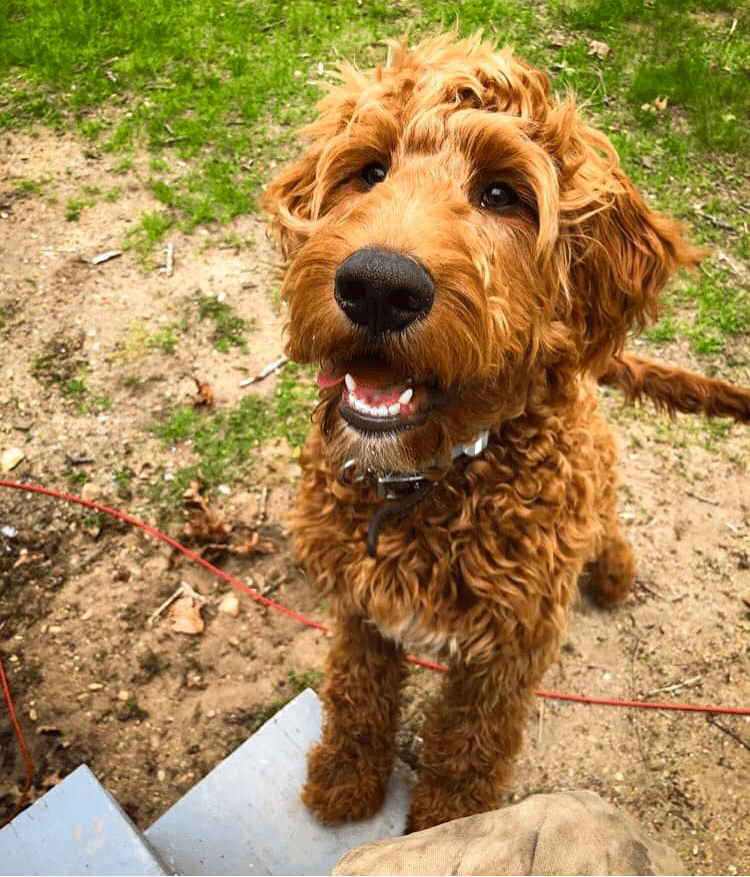 This is a family breeding operation that everyone helps out with. The dogs are handled by people of all ages and are well socialized before they are given to their new homes. This is a full-time passion project for this family, and their dogs are carefully selected for their health and personalities. The facility is really nice here as well, so you can trust that your dog will be kept in comfort and with loving attention until they are ready to go home with you.
It's simple to get on the waiting list here, and you will be able to choose between various litters each year. They also breed poodles, so the foundational breeding for the Doodles they create is in-house. This is a well-researched and carefully constructed breeding process that comes with an excellent puppy guarantee. This breeder might be a great choice to work with if you want to get a dog right away as well. Sometimes they do have dogs that have not been reserved that are available right away.
8. Rocky Ridge Acres Mini Goldendoodles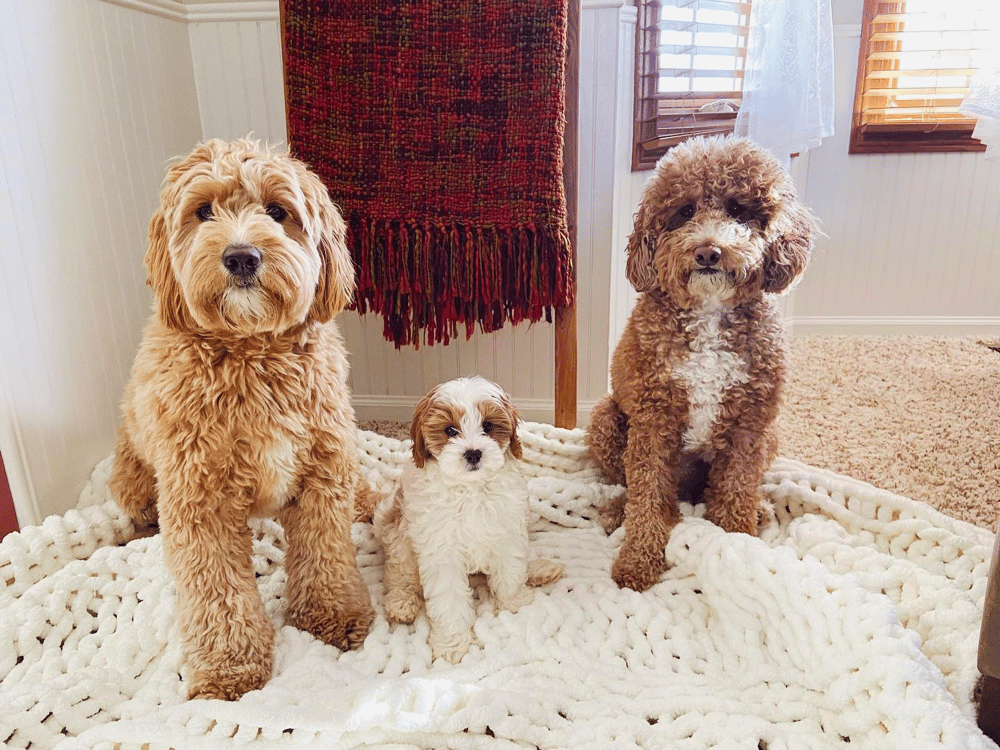 This breeder creates litters of adorable mini Goldendoodles that are well-socialized and ready to come live with you. You will put down a deposit, and then you are allowed to select your dog in order of deposit received starting 2-3 weeks after the litter is born. This breeder stands behind his litters and will work with you if you have an issue with your puppy, but your deposit is not refundable if you change your mind about your puppy once you have chosen one.
This breeder offers a full and well-thought-out puppy guarantee that you can count on. This breeder can also help you with delivery if you are not in their state. There are various options to get your new dog delivered to you that the breeder has vetted out before suggesting them. You will get a full puppy health check with the dog you buy and your puppy will have had its first shots and will have been dewormed when you pick it up. This is a quality operation that is perfect for those who are looking for mini Goldendoodles in this part of the country.
9. Winding Creek Ranch Goldendoodles
This is a family breeding program that has been operating since 2010. They breed Goldendoodles and Double Doodles. All of the puppies are carefully handled and prepared to head to their new homes and succeed in their new lives. This breeder does health testing regularly on all of her breeding animals and is careful to make sure that she is not passing on negative traits with her breeding practices. They want you to get the best dog for your needs, so you will want to reach out with the inquiry form on their site to tell them what you are looking for.
The breeder will use this information to help to pair you with the right dog for your needs. This is a breeder that has a quality puppy guarantee and an easy process to get a deposit put down on your new dog. There are a few litters each year, and you will be contacted about your puppy as soon as they are ready for you to come and get them. Visits to their property are by appointment only, so you will need to reach out before you show up to try and meet the parents or to pick up your new dog.
You can count on being given a puppy that has had its first shots and has been wormed and that will have been given a clean bill of health before being released to you. These are key factors that you need to look for when you are trying to find the right breeder for your needs.
10. The Doodle Cove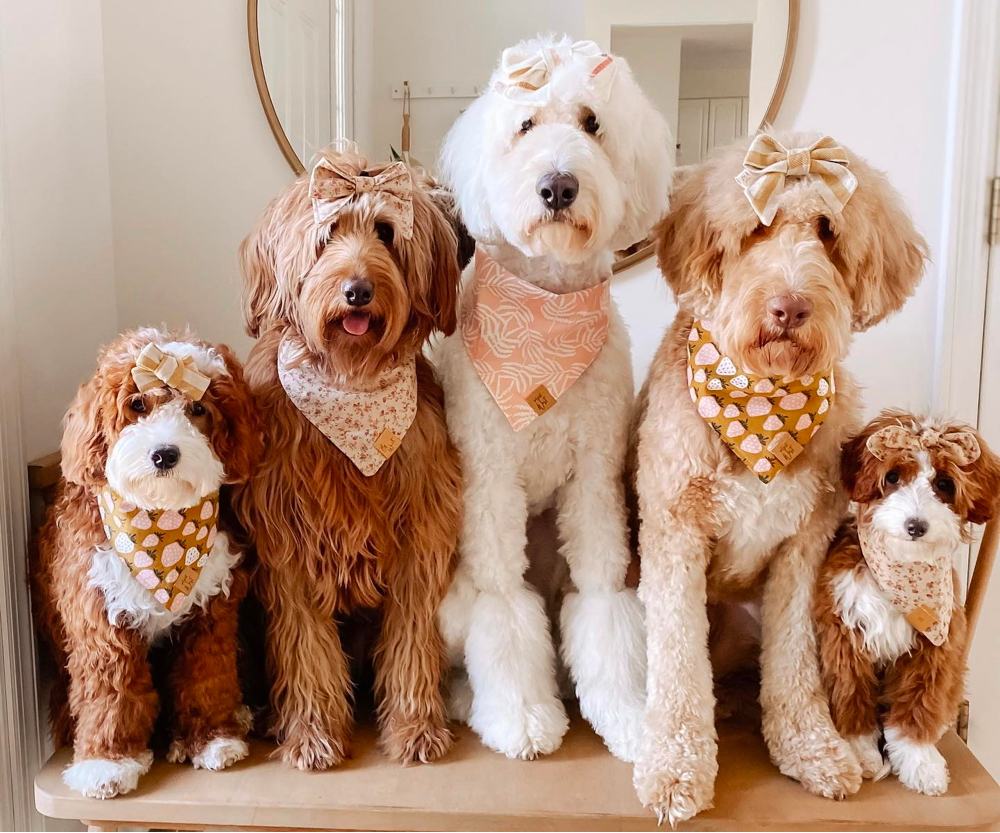 The Doodle Cove located in Syracuse, Indiana is the last breeder to be added to our list. They produce multigen Goldendoodles that are mini, petite, medium, and standard sizes. Their Goldendoodles are perfect angels with hypoallergenic coats and that impressive teddy bear appearance that is adorable. They are certified by Good Dog and are registered with the Goldendoodle Association of North America.
All their puppies are raised in a safe and clean environment, which is their home. There the puppies are interacted with daily to ensure they are socialized. They get a decent amount of exposure to a wide range of stimulations both indoors and outdoors. They are also trained using the Badass breeder training tool as well as the Baxter and Bella enrichment curriculum. You are guaranteed a well-socialized puppy.
Before being considered for their breeding program, each sire and dam undergoes thorough screening. They are researched to ensure they come from impressive bloodlines. In addition, the breeding dogs are genetically tested through Embark Genetics to ensure they are free from genetic health issues that could trouble the litter. OFA certifications are given to each dog to show they have well-functioning hips, elbows, and hearts.
Your puppy should come with a 2 years health warranty, 30 days health insurance by Trupanion, and a proper health record showing their full vaccination and deworming received.
The Doodle Cove Contact Details
Getting a Goldendoodle in Indiana Can be Easy
Armed with this list of breeders, you will have no trouble finding the right breeder to work with. These are caring and responsible breeders who care about what they do for a living and who are passionate about taking care of their clients. You can trust them to work with you to help you to get the most out of your search for the perfect new pet, and you will have lots of great choices to make with regard to the size of your Goldendoodle as well as the coat pattern and the DNA that created the cross.
Make sure that you always ask the questions that you need to be answered and that you do not work with any breeder that gives you a bad feeling of any kind. These breeders will be the right choices to start with for your search as they are very well known and very good at what they do. There is no reason to struggle to find the right dog for you when there are so many really qualified and caring breeders out there to work with!
Recommended Goldendoodle Resources
Goldendoodle Breeders in The Other States Near Indiana