The Goldendoodle is a wonderful mixed breed between the Golden Retriever and Poodle. Many families love Goldendoodles for their affectionate personalities as well as the fact that most of these dogs are primarily hypoallergenic. These dogs are insanely intelligent making them highly trainable.
Goldendoodles are the next biggest up-and-coming breed combo, so how do you know where to find one that is trustworthy? One of the most difficult parts of finding your new beloved puppy is quite literally finding it, especially from a reputable and responsible breeder. Of course, you need to use your due diligence and interview any potential breeder for yourself personally to make sure they are the correct fit, but these are the top 11 Goldendoodle breeders in California that we recommended and why!
1. Rainbows End Puppies
Starting off our list is Rainbows End Puppies located in the Fresno area of central California. For over 18 years the McDonald family has been breeding and raising Doodles safely from their home or that of a trusted team member. They ensure to filter all of the parent dogs by kind disposition and genetic health DNA screening by PawPrint Genetics and health tested by OFA.
What makes Rainbows End Puppies truly special is how many puppies they have donated to charitable organizations such as the Make A Wish Foundation, Guide Dogs For The Blind, Canine Angels, Northstar Foundation, and Guide Dogs of the Desert, Service Dogs For Self Reliance, and others.
They are currently providing reservations for standard multigene Goldendoodles provided with a vet check, two to three-year health guarantee, a microchip, and many tools such as a collar, leash, toys, and a brush. They even take the time to send you home with a binder full of your specific puppy's health and training information as well as three E-books!
The McDonald family takes such pride in their puppies that they receive countless updates and testimonials from previous clients, so if you find yourself adopting one of their Goldendoodles, be sure to send a picture down the road!
2. Cali Doodles
Although very new to the Goldendoodle breeding world, Cali Doodles has very quickly proved their wonderful reputation and credibility through certifications, customer reviews, and personable puppy raising, quickly moving them to the near top of our list.
Cali Doodles is a homeschooling family breeding Goldendoodles to make socially sound family dogs before you even adopt them! Since the family home located in Fresno is constantly bustling, all of the Goldendoodle puppies become accustomed to many sounds and activities from an early age. Cali Doodles runs out of a kid-centered household therefore every puppy is already integrated into being the perfect family dog!
With every puppy, they provide proof of both the parents' pedigree paperwork, OFA, and DNA testing. The puppies leave at 8 weeks of age and are sent with a puppy wellness certificate, vaccinations up to 7 weeks of age, deworming, microchipping, and a 2-year health guarantee.
They also send your new puppy home with a 30-day Trupanion pet insurance trial. Cali Doodles has been recognized for many accomplishments such as Blue Ribbon Breeder by the Goldendoodle Association of North America (GANA), Good Dog Breeder, and Good Dog Breeder Excellent to show their high standing in the Goldendoodle breeding community. All puppies are raised with the Badass Breeder (BAB) Puppy Curriculum and are evaluated before being picked up. The family not only homeschools the children but homeschools their puppies as well!
3. Golden Liberty Doodles
Golden Liberty Doodles are recognized as a Blue Ribbon Breeder by GANA due to their thorough DNA, coat, and OFA testing. They also make sure to state the Puppy Culture method with each puppy to make sure they have a happy, healthy start to life. Their customers speak volumes about how wonderfully the breeder assists the new integration of each puppy into their home!
Conveniently Golden Liberty Doodles provides a "baby blanket test" service where they place a baby blanket in the litter your puppy was born, then send it to you. The purpose of this is to expose you and your family to all smells and possible allergens before adopting your puppy to help leave you with sound peace of mind. Although Goldendoodles are mostly hypoallergenic, there is still a chance that the dogs can cause adverse reactions in those allergic to dogs so this service will test the issue before the puppy even goes home.
Golden Liberty Doodles provides Multigenerational and F1b Goldendoodle puppies. They send each puppy home with their GANA paperwork as well as their first vet exam, microchip, medical records, and 30 days of free pet insurance.
4. OCGoldendoodles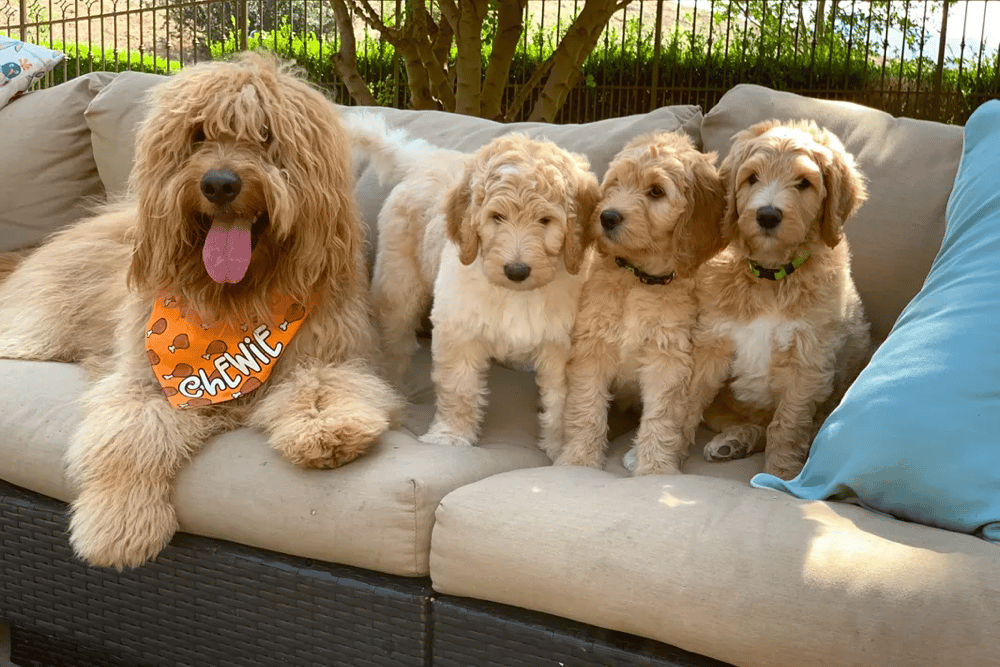 OCGoldendoodles provides F2b Goldendoodle puppies and has tested all of their dogs through OFA and Embark. They are Blue Ribbon Breeders through GANA and are Good Dog Excellent certified and have excellent customer testimonials regarding the health of their puppies, and their professionalism.
This breeder is one of the few breeders on our list that is a canine partner of the American Kennel Club (AKC) and has been breeding for a whopping 32 years. They begin potty training their puppies at 3 weeks of age. They are also trained in pool safety and start swimming lessons at 6 weeks of age.
Each puppy goes home with a puppy kit consisting of vaccination, vet check, and Continental Kennel Club (CKC) registration paperwork. They also receive a microchip, 30 days free of pet insurance, a booklet on how to prepare your ride home with your new puppy, and a blanket and toy combo from your puppy's litter.
5. Coastland Goldendoodles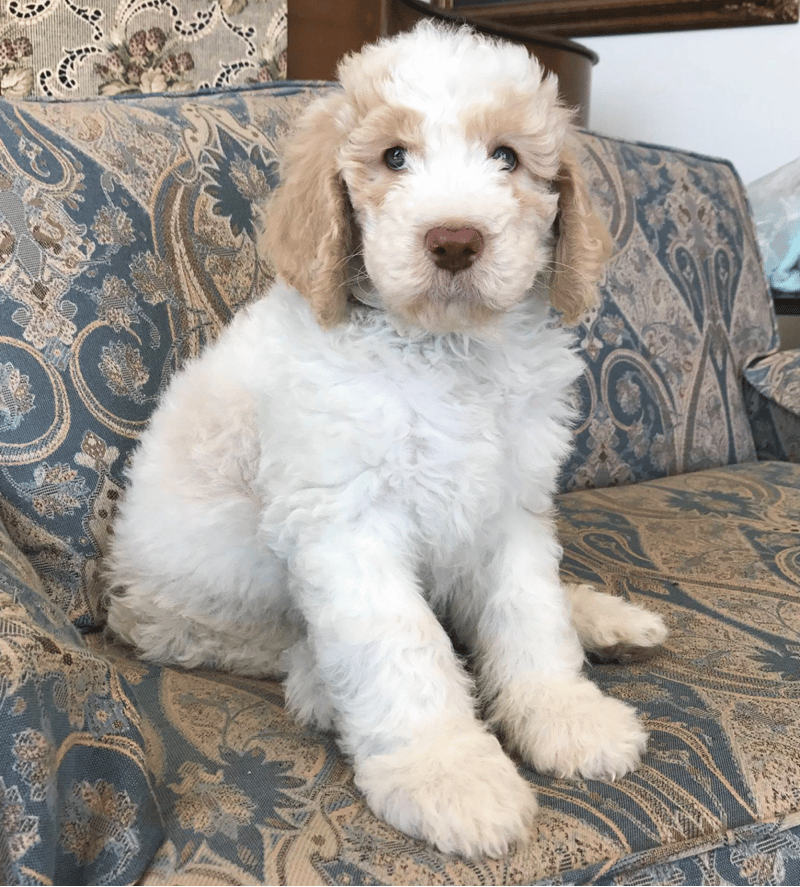 Every puppy born with Coastland Goldendoodles is raised in the home with their family or in safe guardian home. They specialize in breeding English Cream Goldendoodles from imported English Retriever bloodlines.
Coastland Goldendoodles are run by a mother/daughter duo named Cheryl and Kelsey. All of the dogs are health and DNA tested through OFA and PawPrint Genetics. Each puppy is exposed to noises, children, and a family lifestyle from the day they are born.
The customer testimonials for Coastland Doodles are outstanding and plentiful! Each parent Goldendoodle is bred about 4 times before they are retired and spayed/neutered.
6. Almond Blossom Doodles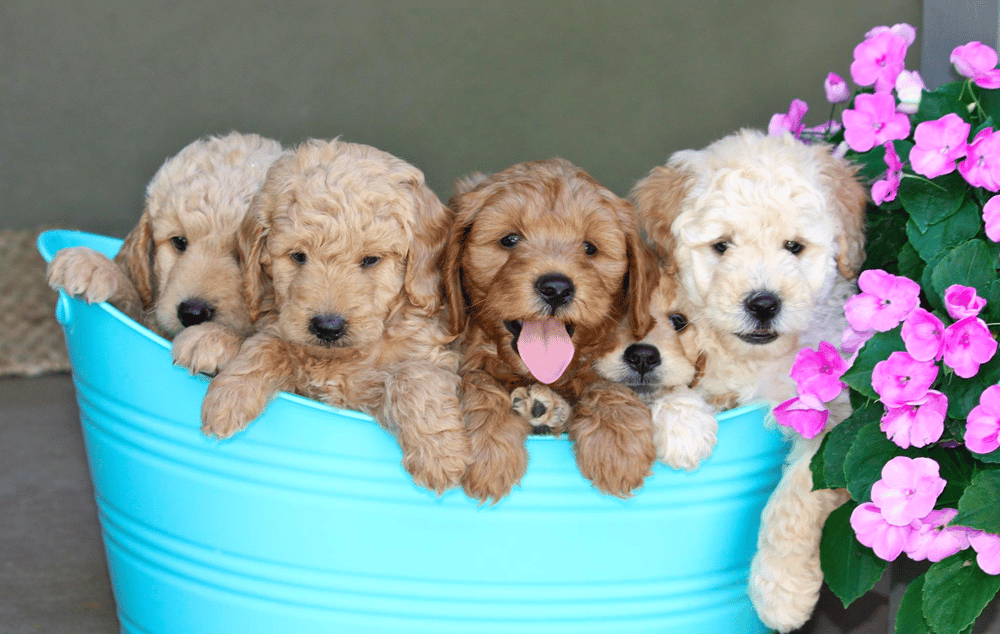 Located in Central California, Almond Blossom Doodles raises F1b miniature and F1 medium-sized Goldendoodles. Every dog undergoes OFA health testing and PawPrint DNA testing. Each puppy has derived from the English Cream Golden Retriever and Poodle bloodline. They have been breeding happy, healthy puppies for over 15 years.
Each puppy is hand raised and socialized from the moment they are born! They send all puppies home with a two-year health guarantee as well as a microchip, shots and deworming, a leash and collar, and a Snuggle Puppy toy. Almond Blossom Doodles actually also removes the puppies' dew claws and crate trains the puppies before they leave their care.
The AKC has declared them partnered with Almond Blossom Doodles as well as the CKC. They also require a strict non-breeding contract, requiring that the puppies are spayed/neutered by 7 months of age.
7. Windsong Doodles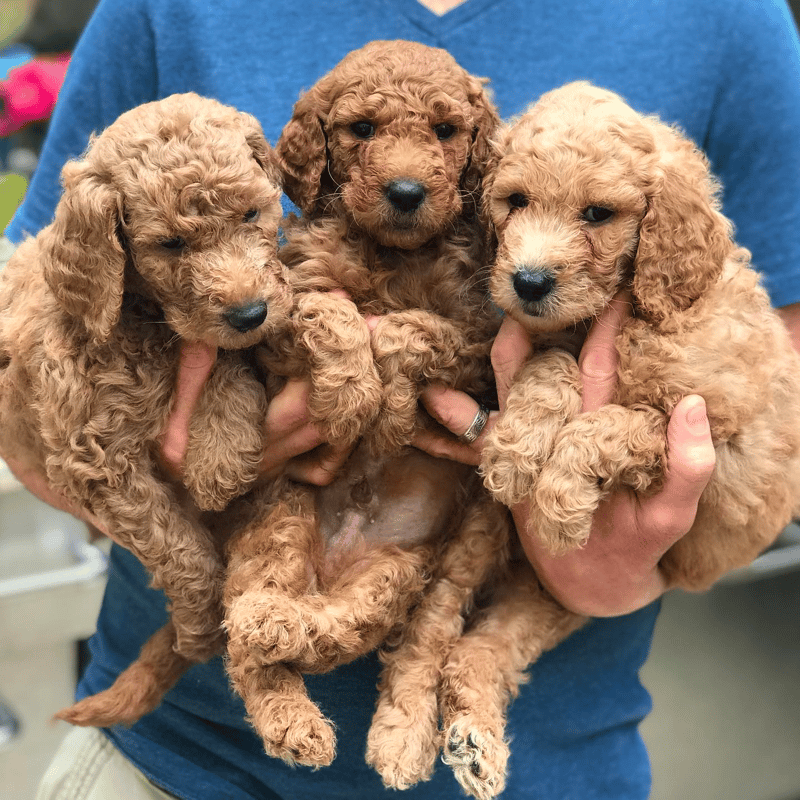 Puppies born through Windsong Doodles receive around-the-clock care from their first breath to 8 weeks when they go to their new home. They even keep the puppies in their master bedroom to make nighttime care easy and plentiful! They ensure to use of a high-quality diet, proper supplements, and PawPrint Genetics and OFA health testing to make sure the puppies are as healthy as possible.
Windsong Doodles are Good Dog Excellent certified. Something completely different than Windsong Doodles does for their puppies not only consists of early neurological evaluation but also litter training! Yes, completely litter-trained puppies by the age of 8 weeks.
All Goldendoodles adopted from Windsong Doodles go home with a 2-year health guarantee. They're also ensured to be exposed using the "rule of 7". This includes exposing a puppy to 7 different things in multiple areas such as terrain, people, animals, and even eating containers.
8. Golden State Doodles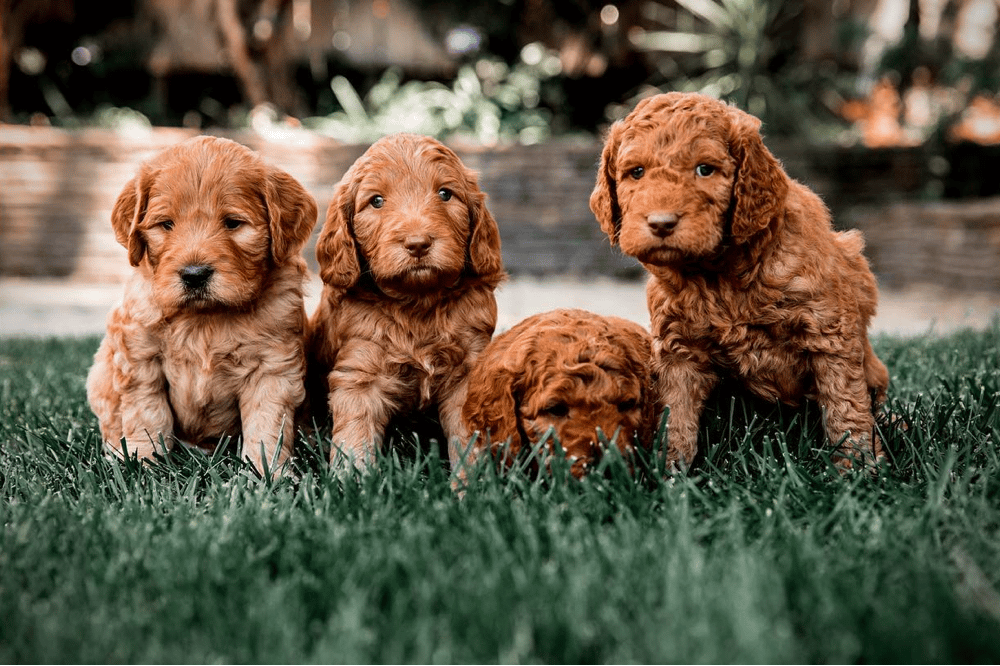 Providing a 2-year health guarantee and extensive health testing of the parents, Golden State Doodles sets out to provide healthy, sound-tempered puppies to every adopter. The family began by breeding chocolate labs, then soon fell in love with Goldendoodles and never looked back! Now they provide multigenerational Goldendoodles that are OFA health tested and PawPrints Genetics DNA tested.
Puppies from Golden State Doodles are sent home with all of their vaccinations and deworming up to date. Each new owner also receives a puppy care package filled with a bag of food, toys, treats, a mama-scented blanket, and a copy of their contract/puppy info. They also begin potty training and crate training before they leave!
Golden State Doodles put in a great deal of work giving their mother dogs prenatal care. Studies show that puppies born to a mom who received prenatal care and massages are more inclined to want human touch and interaction.
9. Given Doodles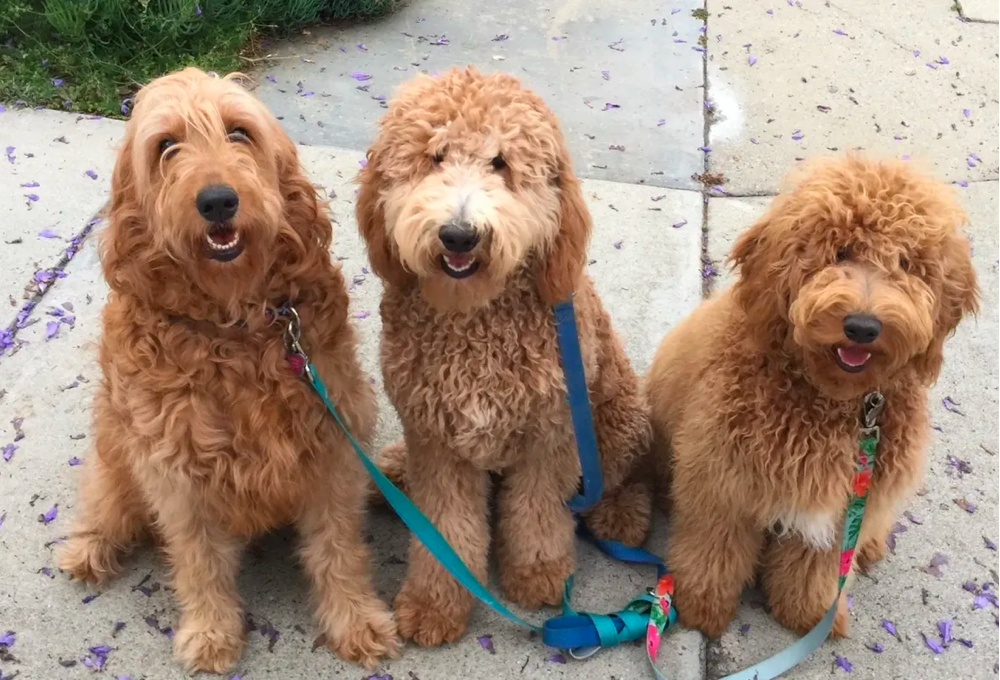 Given Doodles is a top breeder of the Goldendoodle puppy located in Los Alamitos, California. They take up the next spot on our list. They specialize in raising standard-sized Goldendoodles that are multigene so you can be guaranteed that they have good hypoallergenic coats. They are a small breeder that prioritizes quality over quantity and that is why they do not breed excess liters in a year. All their dogs are bred to be perfect family dogs, they also make great service as well as work dogs.
Their breeding dogs are their little angels. They love and treat all of them as members of the family. They were selected after a lot of work and resources were put into researching their pedigrees. Each of their sires and dams is tested by both Embark Genetics and Paw Print Genetics to be certain that they are indeed healthy and fit enough for their program. They also ensure the dogs have their hips, hearts, elbows, and eyes certified by the Orthopedic Foundation for Animals.
All their Goldendoodle puppies are home raised. They get to enjoy living in the family house which is a large property in Los Alamitos, California. There the puppies are fed well, introduced to basic house training, and socialized. They start Early Neurological Stimulation from day 2 and slowly begin other puppy enrichment curriculums from week 3 of their stay at the family home. You are guaranteed a well-rounded puppy.
Each Goldendoodle from Given Doodles comes with a written health guarantee of 2 years. They are microchipped through Avid, come with puppy insurance, and are properly vaccinated, dewormed and vet checked by a reputable vet.
Given Doodles Contact Details
10. O'Hara

Goldendoodles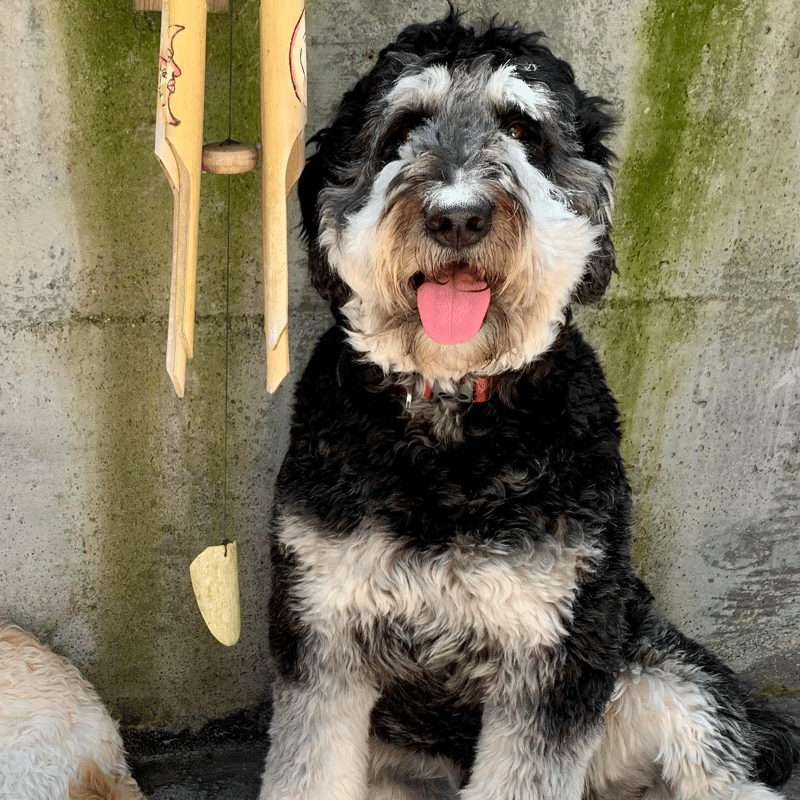 O'Hara Goldendoodle is a "Good Dog Good Breeder" certified Goldendoodle breeder located in the Happy Valley of California! They specialize in F1bb Goldendoodle puppies that are sent home with a 1-year health guarantee. They provide a $200 discount on puppies if they are paid within 6 weeks.
Something completely original to O'Hara Doodles is their willingness to follow up. After the puppies go home, each puppy receives their own personalized Facebook page to keep you updated and connected to your puppy's extended family! With this wonderful service, you can connect and communicate with all of your new puppy's past, present, and future litter mates.
Each new owner and puppy also receive up-to-date vaccinations, deworming, and a microchip. The send-off also includes a puppy kit including a blanket smelling like a mama, a toy, and some other special gifts. All puppies also receive a month of free pet insurance.
11. Helix Hills Goldendoodles
Helix Hills Goldendoodles are coming to our list next. They are a reputable breeder of the Goldendoodle that is recommended by both Good Dog and the Doodle Dog Club. They are members of the Goldendoodle Association of North America and have been breeding Goldendoodles for quite some time. They focus on the standard-sized Goldendoodle of the F1b generation and are located in Spring Valley, California.
Paige Allieri owns and runs the Helix Hills Goldendoodles and she raises all her puppies in a safe and clean environment that is large enough for each puppy to run and play to their heart's content. The puppies are members of their family and they make it a mission to socialize all puppies through regular interactions with them and through exposing them to a wide variety of sounds, sights, and textures to help make them socialized.
Their sires and dams are in great condition. They have a schedule with their breeding to ensure the dams aren't put through too much stress and they ensure they come from good bloodlines with decent pedigrees to show for it. The sires and dams are structurally sound as they are bred according to the high and strict standards set by the Goldendoodles of North America. They are genetically health tested and each would have been checked and certified by the OFA.
All their dogs come with a written health guarantee that lasts for a period of 2 years. They are well taken care of and checked by a licensed vet. In addition to that, they have their full vaccinations and deworming records taken.
Helix Hills Goldendoodles Contact Details
Which is The Best Breeder For You?
In this article, I diligently researched and chose these breeders based on who had the most ethical approach, high-end qualifications, and outstanding testimonials. Personally, I placed Rainbows End Puppies at the top of the list based on their willingness to give and help others by donating puppies to charity and sending home much-needed aid to new puppy parents. Each breeder on this list raises their puppies in their own home, and have very few litters at a time to ensure they are not overworking either one of their parent dogs.
At the end of the day, it is most important to research every contender for yourself and personally discuss your wishes and needs with the breeder. When deciding on your breeder you want to ensure you connect with the pup you choose just as much as the family who raises them!
Goldendoodle Breeders in The Other States Near California
Goldendoodle Resources
Other Dog Breeds