There are lots of reasons why we love the beautiful Goldendoodle breed. When looking at most hybrids or designer dogs, you don't find a lot of dog breeds that are energetic, cuter than plush toys, highly intelligent, and loyal to their family.
The Goldendoodle embodies all these and more and that is why it is currently the most loved family hybrid dog in the country and is very close to its Golden Retriever and poodle parents when looking at the top 10 most popular dog breeds in the United States of America.
It has become relatively easy getting a Goldendoodle puppy these days, as more and more breeders are popping up in different states in the country and the Garden State of New Jersey is no exception.
But it does pay to get your Goldendoodle from a reputable breeder, as you get to save yourself from the stress and heartaches that come with picking a poorly bred Goldendoodle. But how do we get a reputable breeder in New Jersey?
I recommend you read through to the end of this article as we provide a list of some good-quality reputable Goldendoodle breeders that you can try out. Be sure to research each breeder personally, and make your own reasons why they are reputable.
1. Graced With Doodles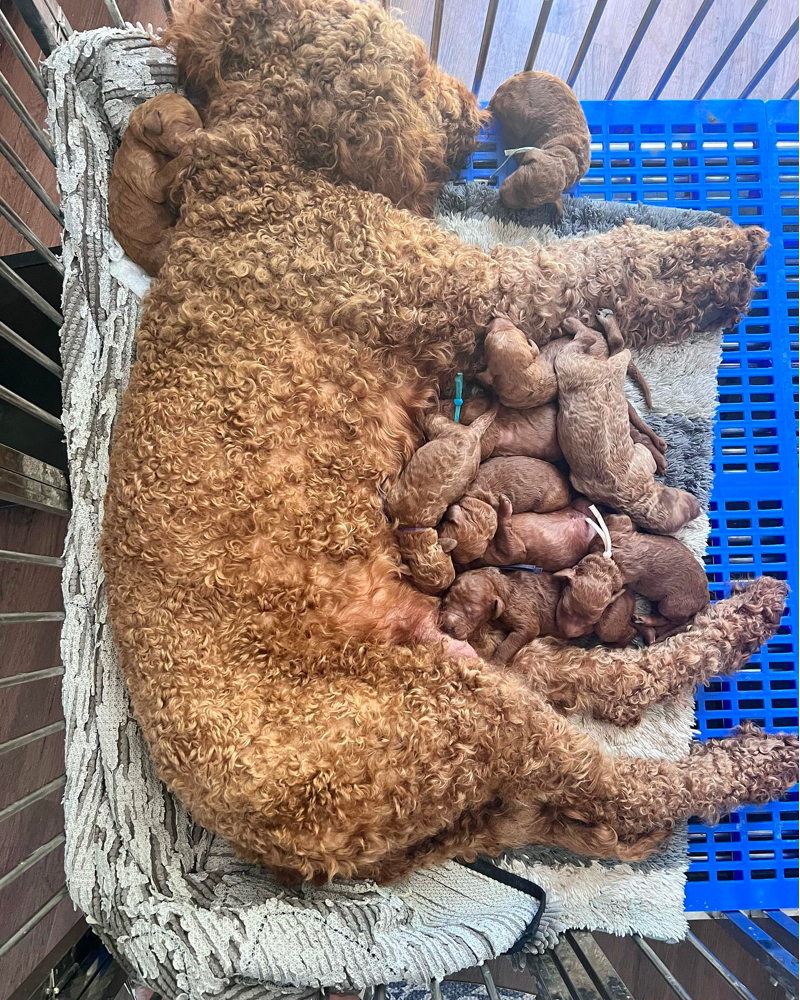 We start this list with the very reputable Graced With Doodles. The owner, Grace O'Dowd Osei, has dedicated her time to breeding fine quality Goldendoodles that make excellent family dogs that also serve as therapy and emotional support dogs. They focus on multigenerational Goldendoodles that give a better chance of being hypoallergenic than the F1 and F1b Goldendoodle generations.
They pride themselves in their breeding program, as they provide quality breeding for each Goldendoodle being produced. They have been able to develop their own breeding line prioritized by good health, high intelligence, and decent temperament. Each sire and dam being used is tested for genetic health conditions and are found to be free from them. They also undergo the various required certifications like the OFA for the hips, elbows, and hearts as well as having their eyes checked by professional vets.
The puppies are raised in their family home to provide a sense of belonging for each Goldendoodle puppy. They are loved by everyone around them who takes out time to bond with each dog individually. This helps to build their socialization. Also, the puppies are introduced to Early Scent Introduction and Early Neurological Stimulation to help boost the socialization process.
Every Goldendoodle puppy comes with a 2-year health guarantee. This guarantee frees them from certain genetic defects that are known to trouble the Goldendoodle litter. In addition to that, they are each microchipped and would have received their full vaccinations and dewormings.
Graced With Doodles Contact Details
2. Cha Cha Doodles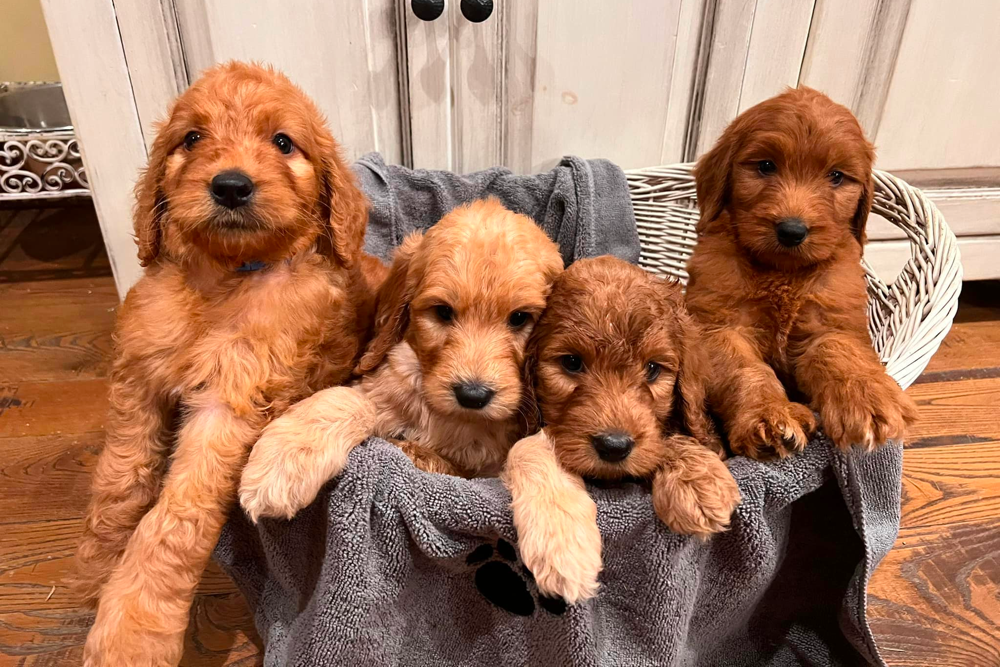 Cha Cha Doodles are the next breeders on our list of Goldendoodles. Dedicated to producing high-quality furry companions, Cha Cha Doodles which has a rather energetic name are breeders of Mini, standard and medium Goldendoodles that are blessed with great conformation and decent temperament. Their love for the designer dog breed is the reason they breed Goldendoodles.
Located in the heart of New Jersey, the dogs are raised in the family home where they are treated like kings and queens. They are fed high-quality puppy food and are kept on decent supplements to help boost their immune system growth. They get socialized daily as they play with the kids and other individuals who come visiting. They offer a guardian program that allows people the opportunity to raise the dogs in their various houses ensuring they meet the needed requirement.
They have been able to establish a proper breeding line that is made up of AKC-registered sires and dams with impressive pedigrees. This was done by performing detailed research on all dogs considered for the breed program. They test each Goldendoodle sire and dam for genetic health conditions like HNPK, CNM, and EIC. Also, they ensure that each breeding parent has its elbows, hips, and eyes checked and certified by licensed professionals.
Each Goldendoodle puppy is properly health checked by a reputable vet. They all come with written health guarantees and each has their deworming and vaccinations updated. They also go through the trouble of removing all dew claws from the puppies.
Cha Cha Doodles Contact Details
3. Britannia Farms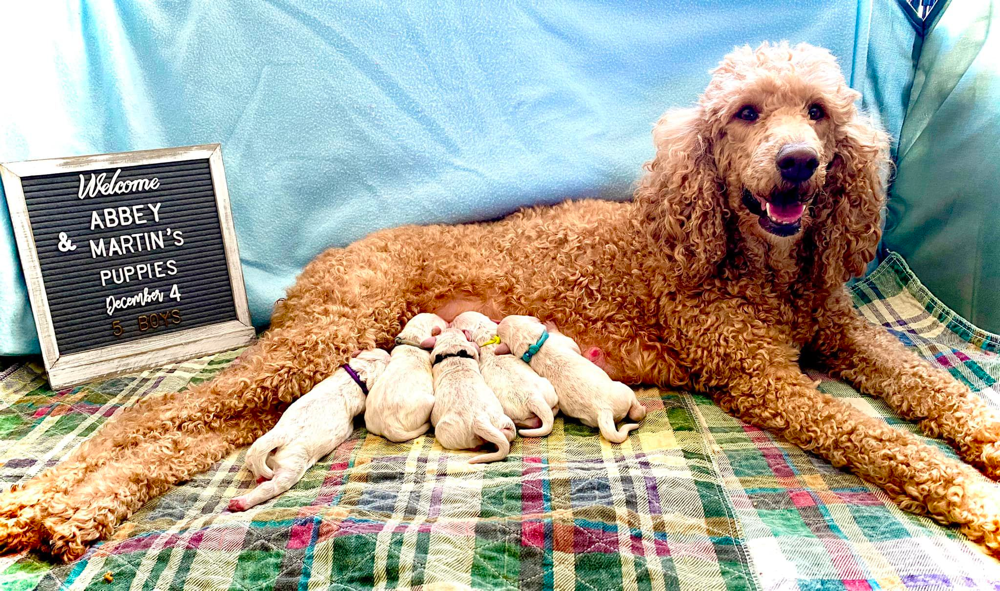 Britannia Farms is an established breeding facility that has been in operation since 2012. They focus mainly on Mini Goldendoodles of the Multigenerational that are low-shedding and therefore hypoallergenic. Founded by the dynamic duo of Helen and James, they have been able to carve a reputation in Washington New Jersey for the high-quality Goldendoodle puppies they produce that make excellent family companions.
Their entire breeding program is quite impressive, starting from their breeding line that is filled with numerous AKC titled Golden Retrievers and Poodles that have excelled both in show and hunting competitions. They offer the full option of DNA testing for each of their carefully selected breeding dogs to ensure they are free from genetic defects harmful to the Goldendoodle litter and each has their hearts, hips, eyes, and elbows certified by the OFA.
The puppies are raised on a 2-acre property in Washington that is fenced all around and possess a large tree at the center providing shade for all pups to relax in, Their kennels are kept clean always and are temperature regulated. Each puppy enjoys a Britannia Farms puppy program which involves Early Scent Introduction, Early Neurological Stimulation, sound desensitization, and a host of other socialization practices to aid the new pup.
With such thorough care provided, every Goldendoodle pup goes home with a health guarantee from genetic conditions and dysplasia. They are also fully vaccinated and dewormed and each is microchipped before leaving for their new homes.
Britannia Farms Contact Details
4. Home Grown Doodles
The 4th breeder on our list of the most responsive Goldendoodle breeders residing in the state of New Jersey is Home Grown Doodles. They are breeders of fine quality Goldendoodles that are multigene, so they are basically hypoallergenic and are of the sizes miniature and standard. Each Goldendoodle puppy is raised as a member of its family and their main focus as breeders is on the socialization, health, temperament, and beauty of each litter.
As we have earlier stated, the puppies are raised in the family home as members of their family where they are showered with a lot of tender love and care throughout their stay, till they eventually leave for the new environments. The puppies are fed high-quality food and placed on supplements to help boost their immune systems. They enjoy proper socialization with family and with themselves and are each exposed to various sights and textures.
Every breeding dog that is added to their breeding program is completely researched to ensure that they are indeed healthy, gentle, and basically a perfect fit for their breeding line. They all have decent pedigrees and are championed dogs. Each breeding sire and dam gets tested through Embark for genetic defects. In addition to that, they also have their required certifications from the appropriately licensed bodies.
A Home Grown Doodle puppy is properly examined by a vet. In addition to that, each pup comes with its health guarantee and is well vaccinated as well as dewormed. They also have their dew claws clipped.
Home Grown Doodles Contact Details
5. Whitetail Mountain Doodles
Whitetail Mountain Doodles are a fun Goldendoodle breeder residing in New Jersey, that has made breeding Goldendoodles a fun activity. Their deep love for the Golden Retriever's vibrant personality. Coupled with the luscious coat of the poodle has led them to produce GANA standard Goldendoodles that make excellent family pets and loveable companions. Their main focus as breeders is on the F1b generation as they are low-shedding.
They run a very stern sire and dam screening process in which they carefully go through each potential breeding parent's pedigree to find the perfect fit for their breeding program. Something quite cool about their process is that they select each Goldendoodle based on a few criteria like their individual health and temperament. The sires and dams undergo thorough health testing for genetic health defects and are each certified by licensed bodies like OFA and CERF for having functional eyes, hearts, hips, and elbows.
The puppies are raised in their family house which is quite fun as they get to play around with each other. They get exposed to various stimulating environments and experiences and are allowed to interact with several items from doggie toys to vacuum cleaners to rugs, all to help build their socialization. In addition to that, they get to be carried and played with by people of various age groups as well as other pets like cats.
All Whitetail Mountain Doodles are well-behaved. They are at the pinnacle of good health and have their health records to show it. They are fully vaccinated as well as properly dewormed and each comes with their individual health warranty that lasts for 1 year away from genetic health issues.
Whitetail Mountain Doodles Contact Details
6. Bella Pups
The 6th breeder on our list goes to Bella Pups. Founded by Patricia Hess, the breeding facility which is located in Pennington New Jersey is dedicated to producing quality Goldendoodles that are bred according to the breeding standards set by GANA. They focus on Goldendoodles of mainly Miniature sizes but they also breed standard Goldendoodles with perfect health, temperament, and high intelligence.
Every Goldendoodle puppy from Bella Pups is raised in a cage-free environment, particularly in the family house where they are loved and throughout by members of the family. Their whelping areas are kept clean and temperature regulated and they are fed high-quality kibble as well as given NuVet supplements to foster a strong immune system. Each puppy is properly socialized with a variety of stimulating experiences from the sounds of a car horn to the textures of a carpet.
The breeding line is filled with a lot of AKC registered breeding sires and dams that each hail from championed bloodlines with impressive pedigrees and AKC show and hunt titles. The puppies were carefully selected based on their temperament and health and as such, they undergo extensive genetic health testing for conditions or genetic defects that are common to the Goldendoodle litter. Their hips and elbows are certified free from dysplasia and they undergo eye and cardiac testing to show they are healthy and fit for the breeding program.
Each Bella Pups Goldendoodle comes with a written health guarantee, they are introduced to basic potty and crate training, and are each microchipped. Their vaccination and deworming records are fully taken and they have been well-checked by a licensed vet.
Bella Pups Contact Details
7. Stay Golden Doodles
The number 7 breeder on our list of reputable Goldendoodle breeders in New Jersey goes to Stay Golden Doodles. This breeding facility is owned by Jennifer Fenton, an experienced breeder that truly loves and cares for the Goldendoodle breed and is all about connecting these precious angels to wonderful families that would equally care and love them. She produces top-quality Goldendoodles that are low-shedding and possess a nice and gentle temperament.
Every Goldendoodle produced by Stay Golden Doodles comes from parents of impressive bloodlines with equally impressive pedigrees. The breeding selection is done in pairs with health and temperament being the two main focal points of their program. Every breeding dog is tested through Paw Prints Genetics for health conditions known to affect each Goldendoodle puppy. They are also OFA certified for having perfect hips, elbows, hearts, and eyes.
They pride themselves in the fact that each Goldendoodle puppy is raised in a non-kennel environment where they are safe and are cared for throughout their stay at the breeding facility. They are provided with quality food and are provided with the needed supplements to support healthy growth. Early Neurological Stimulation is provided for each Goldendoodle puppy from day 3 till day 16. They also get to interact with various people as well as get exposed to different textures and stimulations.
All Stay Golden Doodles come with a 2-year health guarantee free from genetic health problems. They are properly examined by a reputable vet and are given their full vaccinations and dewormings with health records to show it.
Stay Golden Doodles Contact Details
8. New Hope Doodles
The Final breeder on our list goes to New Hope Doodles. Founded by Carol Roman, New Hope Doodles is a top Goldendoodle breeder located in Blairstown, they are dedicated to producing healthy mini Goldendoodles of standard quality and decent temperament. All Goldendoodles being produced make excellent family companions as well as perfect service and therapy dogs.
Their breeding program features impressive Golden Retrievers and Poodles that hail from impeccable bloodlines with decent pedigrees to prove it. Something quite cool about their selection process is that they spend hours on each breeding dog to be added to the program. They each undergo rigorous health testing and each has their eyes, hearts, hips, and elbows certified by licensed professionals.
The puppies are home raised on a 5-acre property in New Jersey that provides comfort and safety. Each Goldendoodle puppy is fed good food and is provided with the needed supplements. They enjoy puppy culture and other forms of socialization including having regular interactions with various sights, sounds, individuals, and textures.
Every Goldendoodle puppy comes with the needed health warranty, they are health checked by a licensed vet, have their full vaccinations and deworming, and are microchipped.
New Hope Doodles Contact Details
| | |
| --- | --- |
| Owner | Carol Roman |
| Breeder Since | 2020 |
| Address | Blairstown, New Jersey |
| Email | N/A |
| Phone Number | N/A |
| Website | newhopedoodles.com |
Final Thoughts
There are a lot of great breeders on the list above but the best Goldendoodle breeder goes to Britannia Farms.
Britannia Farms has done a great job of establishing an impressive breed program. A bloodline filled with so many AKC title dogs is quite impressive and shows their level of dedication to maintaining the breed's integrity.
Another cool thing is their extensive Britannia Farms puppy program which has a very detailed list of different socialization methods employed in their program. Which is supported by their 2-year warranty.
With that being said, do make proper research on any Goldendoodle breeder you choose to work with. That's all we have for you in this article, do check out the website for more engaging content.
Recommended Goldendoodle Resources
Best Goldendoodle Breeders in The Other States