What do you get when you cross a gentle disposition of the Golden Retriever with the playful nature of the Boxer? You get a large and beautiful Golden Boxer. The Golden Retriever Boxer mix is relatively new when it comes to the canine world, yet its popularity is fast increasing.
The Golden boxer can take up one of both parents' appearances. A Golden Boxer that looks like its Golden Retriever parent would have a round head with a long muzzle while a Golden Boxer that looks like its Boxer parent would have a square-shaped head and a shorter muzzle.
Regardless of what parent it looks more like, the Golden Boxer is a sweet dog that values the attention and companionship of its owner more than anything.
This article is all about the beautiful Golden Boxer, we would give you a thorough insight into the designer breed. Its history, temperament, appearance, exercise requirements, and a whole lot more. So get a glass of something chill, and ensure you read till the end.
Golden Boxer Overview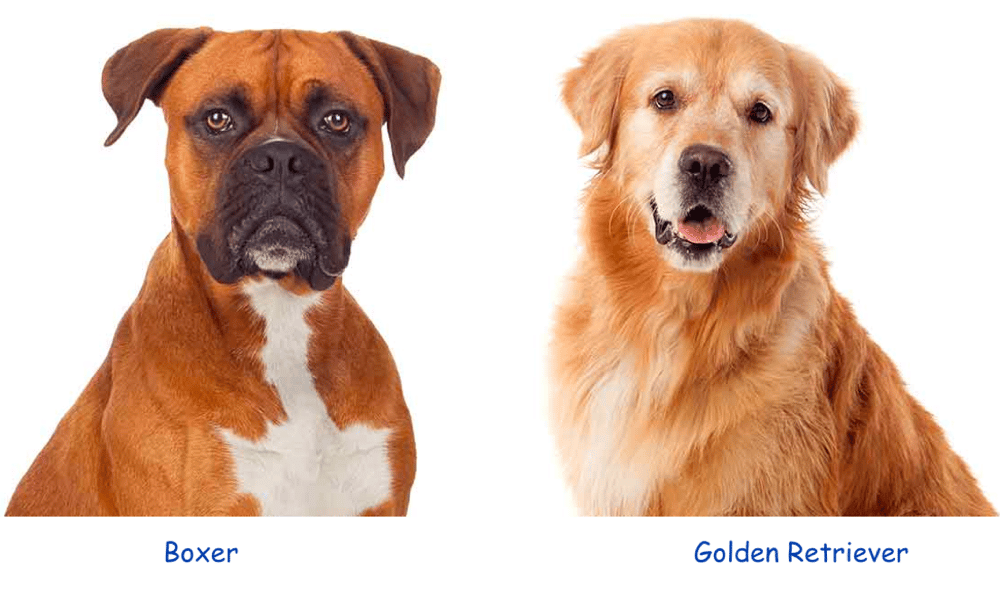 | | |
| --- | --- |
| Weight | 60-80 pounds |
| Height | 21.5-25.6 Inches |
| Coat Type | Dense, Short, or Medium |
| Coat color | Golden, Black, Yellow, Chocolate, Cream, White |
| Amount of Shedding | Moderate |
| Temperament | Loving, Affectionate, Intelligent, Cheerful, Loyal, Playful, Social, Friendly, Outgoing, Sweet |
| Lifespan | 10 – 15 years |
Golden Boxer Breed History
The Golden Boxer is quite new to the world of intentional breeding, with little to no record of the designer breed over the last 10 years. However, for a better understanding of the history and character traits of the Golden Boxer, a look into its parent breed would be most ideal.
The Golden Boxer's parents (The Golden Retriever and the Boxer) are both well-grounded large hunting dogs that could also double as companion dogs. The Golden Retriever, which is a much more gentle dog than the boxer has its origin traced down to the 19th Century.
It was first bred in Scotland in the mid-19th Century for the purpose of hunting and retrieving during waterfowl hunting. The breeding goal back then was to breed a perfect hunting companion that would be unmatched in the field while still having the calm and gentle nature to be a family and indoor dog.
By breeding a Tweed Water Spaniel with a Wavy Coated Retriever, they were able to accomplish such a goal. The Golden Retriever became a well-recognized dog breed in Britain by the 20th century and in the year 1925, it became registered and recognized by the American Kennel Club.
The high energetic, playful Boxer was first developed in Germany in an earlier period than the Golden Retriever, the 16th Century. It belongs to the Mastiffs Tibetan Line.
The boxer is an excellent guard dog and was originally used as a war dog by the United States just the bulldog and German Shepard. A famous species of the Boxer war dog was 'Sergeant Stubby'. This fearless, loyal canine won a total of 17 battles in its time and it quickly became one of the most decorated dogs of the early 1900s.
The Boxer got its name from its fighting style, when it attacks, it uses its paws in a way that resembles the fighting style of a boxer. The Boxer breed became widely recognized in the year 1904 when it became a recognized breed by the American Kennel Club.
Although the Golden Boxer is not yet recognized by the American Kennel Club, The hybrid Golden Boxer has earned the recognition of the Dog Registry of America and the Designer Dog Kennel Club.
Golden Boxer Temperament
With a mix of both the Golden Retriever and the Boxer parents' temperaments, the Golden Boxer is a rather energetic designer breed that enjoys the company of its family. When it comes to friendliness, the Golden Boxer is a bit, unlike its Golden Retriever parent.
It might bark at new faces to alert its owners of their presence. This particular character trait makes the Golden Boxer a great watchdog. When left alone, the Golden Boxer is a rather quiet dog and could spend a huge part of its day in silence.
With proper socialization, the Golden Boxer could make a perfect companion for kids as well as other house pets. Its large size could make the designer breed quite harmful to babies and toddlers, so, do be careful and ensure that they avoid roughhousing and basically any form of teasing.
As we have already established, Early socialization is key for the Golden Boxer. A well-socialized Golden Boxer would have no problem living with a fun-loving family with kids and other pets.
Ensure you don't leave your Golden Boxer dog alone for too long. This could lead to a few destructive habits building up like chewing on furniture or other things in the house and barking continuously.
You shouldn't have a problem when training the Golden Boxer as its eagerness to please could make it very easy to train the Golden Retriever Boxer mix.
What Does A Golden Boxer Look Like?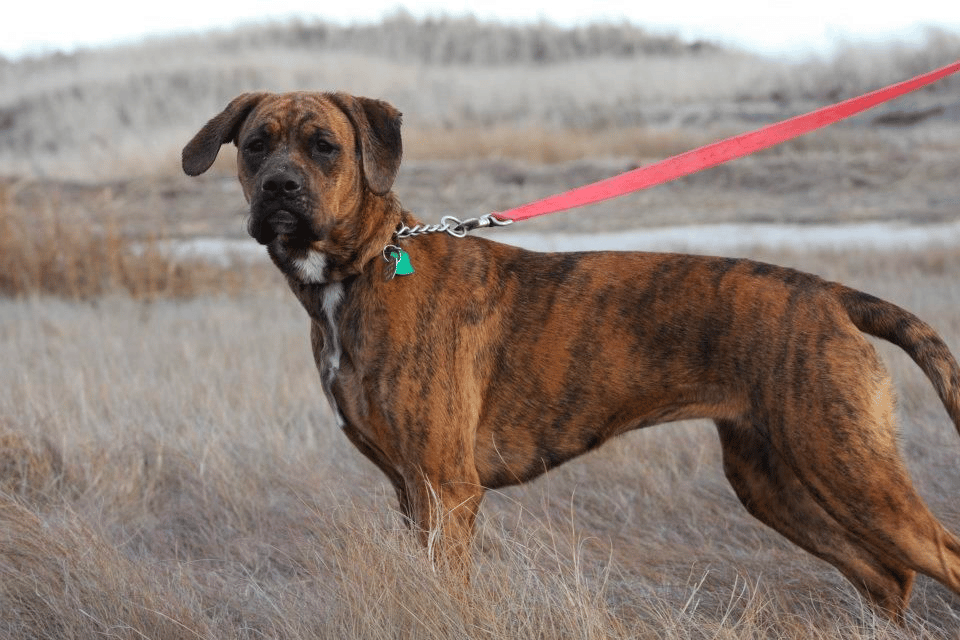 As we have already established, the Golden Boxer cross breed is a cross between A Golden Retriever and a Boxer, and hence, it could be like either parent, what matters is the level of appearance dominance of each parent on the hybrid.
It is blessed with a muscular build and since it's a large dog, its weight should be quite large. The Golden Boxer weighs between 60 to 70 pounds and that's just an average Golden Boxer.
If your Golden Boxer looks more like its Golden Retriever parent, it would have a round-shaped head with an elongated muzzle. However, if the Golden Boxer looks more like its Boxer parent, do expect a square-headed shape and a short muzzle.
When it comes to its ear features, the Golden Boxer looks more like its Golden Retriever parent having doggy ears that lay down. The ears also look perky and this gives the Golden Boxer its inquisitive look.
The eyes of the Golden Boxer are oval in shape, hazel or brown in color and its feet are medium-sized, round, and compact.
The Golden Boxer could take one of 6 coats which are; Golden, Black, Yellow, Chocolate, Cream, and White. Its coat length could either be long, short, or medium, depending on which parent's appearance is more dominant. And the coat texture of the Golden Boxer varies from straight to depending on which parent's appearance is more dominating.
Food Requirements of the Golden Boxer
Both parent breeds of the Golden Boxer are very energetic and active breeds and for that reason require a lot of rich, highly nutritious food. For the Golden Boxer child, there really is no exception.
The Golden Boxer breed requires food that is rich in protein. Feeding your Golden Boxer lean meats of high quality like chicken, lamb, fish, and beef are ideal. They are quite satisfying to the breed and therefore won't leave them hungry for long.
Plan the Golden Boxer's feeding schedule or diet plan according to its age, activity level, and size. Also, the Golden Boxer easily suffers from bloating, so do ensure that you don't go feeding them all of the food in one sitting.
You can space out the meals, 2-3 meals a day would be perfect, just ensure that they drink a lot of water after meals. Also, ensure that you feed your Golden Boxer at least an hour or two before you exercise them.
If you are going to feed your Golden Boxer, processed food gotten from a store, do ensure you follow the guide written on the package for serving correctly. And avoid feeding your beloved dog food that uses non-meat or meat by-products as their main ingredients.
Another important thing to note is, never overfeed your Golden Boxer, it has a tendency to become overweight and this is totally unhealthy for any dog breed as it could lead to terrible joint issues in the future.
On average, 3 cups of dog food is okay for a day. It should cost you between $1.50 to $1.90 a day and approximately $39.00 to $45.00 a month. For dog treats, ensure you carefully select them and don't feed them that often (in my opinion, only give them treats as a reward for good behavior while training).
How Much Exercise Does a Golden Boxer Need?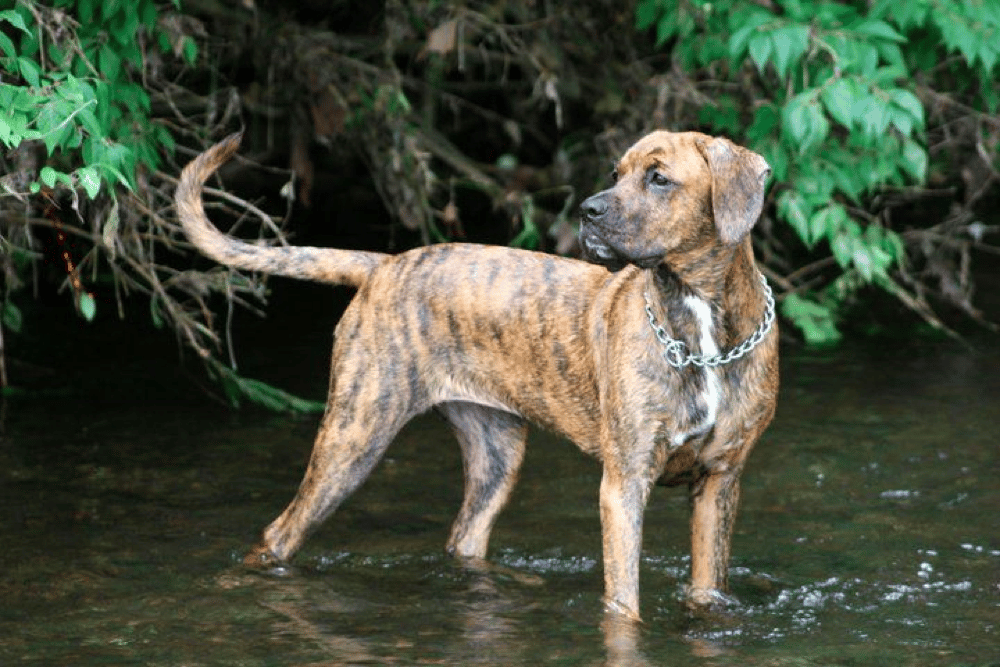 Again, the high level of activeness and energy that the Golden Boxer inherits from both its Golden Retriever and Boxer parents means that the hybrid would require a lot of exercise to stay healthy and less destructive.
Boredom for the Golden Boxer is a terrible thing, so exercise them daily. Setting an hour or two aside for long walks a day is a great start for the designer breed. Also, the appearance of the Golden Boxer has an effect on the level of exercise that would be required for the designer dog breed.
If the Golden Boxer looks more like its Boxer parent, it would require much more intense hours of exercise than it would require if it looked more like its Golden Retriever parent. Regardless, the Golden Boxer requires a lot of exercise to stay less destructive.
The best dog owner for the Golden Boxer would be an athletic or sporty person. Someone who loves to go on regular jogs, hiking, and other physically challenging activities. Taking your Golden Boxer companion on such activities would help them do away with all that excess energy that comes naturally to them.
If you live in a property with a yard, then the Golden Boxer is perfect for you, however, if you stay in an apartment, it is still acceptable, as the Golden Boxer can adapt, you just have to ensure that you meet its exercise requirements daily and you both would be just fine.
Plan your walks and other exercise activities with your dog properly. You could visit the dog parks for example, just ensure you keep your Golden Boxer on a leash when you do since it is a large dog.
Socialization of the Golden Boxer is very important and the dog park is an excellent place to keep them socialized. Have them play with other pets, and let them be handled by other faces and strangers, if you aren't looking for a full-on guard dog, this is the best strategy for raising your Golden Boxer.
Is It Easy to Train A Golden Boxer
Early Socialization (like I stated earlier) and training are very important for the Golden Boxer and the quality of experience you enjoy with it. You definitely would want a dog that listens to your commands even when it doesn't want to.
By introducing your Golden Boxer pup to new faces, textures, and sounds and enrolling them in a training class for puppies, you help your Golden Boxer pup get more comfortable in new environments as well as easily adjust to them.
A well-adjusted and comfortable Golden Boxer would easily get rid of aggressive behaviors and traits such as continuous barking, biting, and so on.
Training your Golden Boxer should be an almost easy affair. This is because the Golden Boxer naturally loves to please its owner, and that habit or trait is why it would learn new commands with ease and high speed without you needing to repeat them.
Try using positive reinforcement during your training of the Golden Boxer. Praise them when they have done well with gentle taps, nods and of course, treats. Remember not to give them too many treats though, so they don't get filled up on them.
Be confident and firm when training them, but try as much as possible to avoid shouting or yelling at them when you train them. Your quick temper or show of anger could slow the process of learning for your dog.
Also, keep each training session shot, you don't want your Golden Boxer pup to lose interest in training. Keep each training session to a maximum of 30 minutes to 1 hour a day. Although, because the Golden Boxer is a people please it might want to stick out the full hour with you.
Training the Golden Boxer yourself is a great way to establish a connection or bond with each other, so do not be quick to hire a dog trainer or a professional to train your Golden Boxer. Its great personality makes it an easy-to-train dog.
Grooming Requirements for the Golden Boxer
Your Golden Boxer's coat is dependent on its parent's appearance, and which is more dominating. If your Golden Boxer looks more like its Golden Retriever parent, it would inherit a thick double coat. However, if the Golden Boxer looks more like the Boxer parent breed, it would inherit a short but straight coat.
Since both parent dog breeds are moderate shedders, then the Golden Boxer would also be a moderate shedder. You would be required to brush the coat of your Golden Boxer once a day with a sleek brush. This helps to keep the rich coat free from tangling, remove dead cells keep it healthy, and also keep any loose dog hair away from the car or home.
For a Golden Boxer with a double coat that is long, it would require that you trim its coat frequently. You can do this at home, however, if you can't, then I recommend you hire a professional groomer to do this for you.
During the shedding season, it is important to know that a Golden Boxer with a double coat tends to shed a lot more than normal, so the level of grooming that would be required would be much.
Bathing your Golden Boxer should not be an everyday affair. In fact, you should only bathe it when it is necessary and do ensure that you make use of a good quality dog shampoo, to keep its fur protected.
Also, the floppy ears of the Golden Boxer could easily get infected, so do ensure you keep it clean and dry always. Use a cotton ball or a damp cloth to clean its ears, do ensure it is thoroughly to avoid leaving debris.
Keeping your Golden Boxer's teeth clean should be a regular affair (at least brush them 3 times a week). If your Golden Boxer drools more often than normal, it might be a sign of gum disease, so regular brushing helps you monitor the oral health of your Golden Boxer dog. You should also trim its nails often.
Potential Health Issues of Golden Boxer
A major reason for cross-breeding any dog species would be to create a strong breed or hybrid that is free from the health defects of its parent breed. In that regard, we can say that the Golden Boxer is a healthier breed when compared with its Golden Retriever and Boxer parent
Selective breeding is usually done by most breeders to help eliminate certain health defects that are associated with its parent breed. However, this isn't a full guarantee that the child bred won't inherit a few of these disturbing hereditary conditions.
This is why we always recommend that you do your proper research when getting any dog breed from any breeder no matter how reputable they claim to be. Demand for medical records, clearances, and certifications just to be extra sure, before taking the pup home.
Here are some of the health conditions (both minor and severe), that could most likely affect the Golden Boxer hybrid.
Serious Health Conditions
Severe health conditions like these could be fatal and threaten the life of your Golden Boxer, they should be taken with all seriousness.
1. Cancer
Cancer is a terrible health defect that could be passed down to the Golden Boxer from the Golden Retriever, as it is more prevalent in that parent breed.
One in every five Golden Retriever breeds is affected by cancer, and the breed is susceptible to different cancer types, the most deadly and most common of which is hemangiosarcoma.
It is therefore recommended that you take your beautiful Golden Boxer companion to the vet regularly for health checks and exams.
2. Bloating
Bloating is a terrible condition that is known to mostly affect dogs with a deep chest like the Boxer. If you notice that your Golden Boxer dog is constantly gasping for air, it might be suffering from bloat.
Bloating is quite terrible, it causes the dog's stomach to swell, which in turn cuts off circulation to the hind legs. The stomach lining could also get severely damaged.
Ensure you keep your Golden Boxer on a high protein diet, and try to avoid fillers, in the form of excess dog treats. Bloating can be life-threatening to the Golden Boxer so do ensure you see a vet immediately if you notice anything weird.
Minor Health Conditions
Minor conditions could also be quite severe, but when spotted early, they can be treated. Some of these conditions are;
1. Joint Dysplasia
This is a really painful health defect that is prone to most if not all dog species. It happens when the joints are incorrectly or improperly formed.
This could cause the joints to rub and not move smoothly thereby wearing out the joints. It is quite painful and can lead to a dog being unable to bear its weight.
2. Eye Defects
Eye conditions such as cataracts are also quite common to the Golden Boxer. If you notice any irregularities or changes with the Golden Boxer pup ensure you call a vet to keep its eyes protected.
3. Hypothyroidism
When the thyroid gland of the Golden Boxer shrinks or gets inflamed, it could lead to Hypothyroidism.
Other health conditions like cancer and hair loss and itchy skin can lead to hypothyroidism. This condition could lead to your Golden Boxer getting drooping ears or painful ears.
How Much Does A Golden Boxer Cost?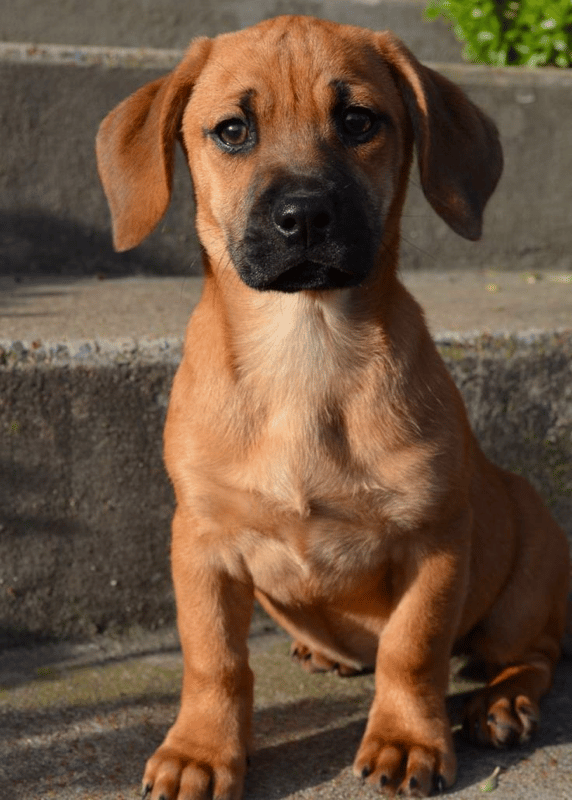 If you are interested in getting a Golden Boxer pup, then be prepared, as these little angels could sell for as low as $300 to as high as $1500. However this is just the average cost, depending on each breeder, they could sell for a lot more, and with their increasing popularity, that might happen soon.
Another factor to consider might be the expenses incurred in raising these little angels. The cost of neutering a Golden Boxer or genetically testing it could have an effect on the price that is set by the breeder.
Also, you might need to factor in some other costs attributed to raising the pup such as purchasing a crate, a leash, microchipping the dog, purchasing a dog collar, visits to the vet, and other necessary expenses.
And as your Golden Boxer gets older, It would require food, training, pet insurance, and vaccinations, so do ensure you consider the cost of all these before getting a Golden Boxer.
Related post: How Much Does A Golden Retrievers Cost? Full Breakdown Cost to Buy and Raise A Golden Retriever
Does The Golden Boxer Make A Great Pet for the Family?
Yes, the Golden Boxer hybrid is a great family dog, an awesome companion for you, and a best friend for children. Their playful nature makes them great for kids. However, this is only true if your Golden Boxer is socialized early and properly trained.
They are clingy dogs that enjoy the company of their family, that is why they easily feel down and bored when left alone. So it is strongly recommended that you never leave your Golden Boxer alone, if you won't always be home, I advise you get a sitter, someone to keep your pooch company while you are away.
When it comes to kids, the Golden Boxer makes a great friend and although they mean well, it is advised that you keep them away from toddlers and babies. This is because their large size might end up being harmful to them.
Also, it is best practice to caution your children against teasing or rough housing with the Golden Boxer
When it comes to relating with other pets, the Golden Boxer shouldn't have a problem sharing its space. Although, its large size could intimate smaller pets causing them to run which in turn would cause the Golden Boxer to chase after them.
A socialized Golden Boxer would have no problem with this, their high intelligence and eagerness to please should help them in behaving well.
Is The Golden Boxer Right For You?
Well, that is for you to decide. What really matters when it comes to the Golden Boxer is attention, Can you give the Golden Boxer the attention and care it requires?
Answering that question with all honesty is how you know if the Golden Boxer is the right dog for you.
The Golden Retriever Boxer mix is an excellent dog for a family home. Its playful, loving and affectionate personality could help bring the family closer together. But be careful tho, though this beautiful breed does get clingy so be sure to give it all your time.
Ensure you keep your Golden Boxer on a rich protein diet while avoiding fillers, groom it regularly to maintain its rich luxurious coat, visit the local vet often for checks and exercise your dog regularly to keep them healthy and strong.
Other Golden Retrievers Mixes