In the gorgeous state of South Carolina, there are many passionate and successful breeders throughout this great state. Finding the perfect puppy for your family and life can be a little tricky, as well as time-consuming, especially with a full and busy life schedule. It is highly recommended that new/current owners step back and evaluate their current living style before purchasing a puppy. Puppies come with very important responsibilities from health plans to enrichment plans. Talk to your breeder about any questions that you may have, they are all happy to help!
Labrador retrievers are well-known and seen often in the USA and really all over the world in different locations. They are top-rated as one of America's greatest dog breeds of their time. They have awesome temperaments and strong-willed hearts. Labradors are great around kids and other types of animals, even cats! Labradors are typically very healthy dogs and they have an average life span range of about 10-17 years old. Below is a list of the top 10 breeders in South Carolina that always sell high-quality puppies and gives outstanding customer service.
1. Home of Labradors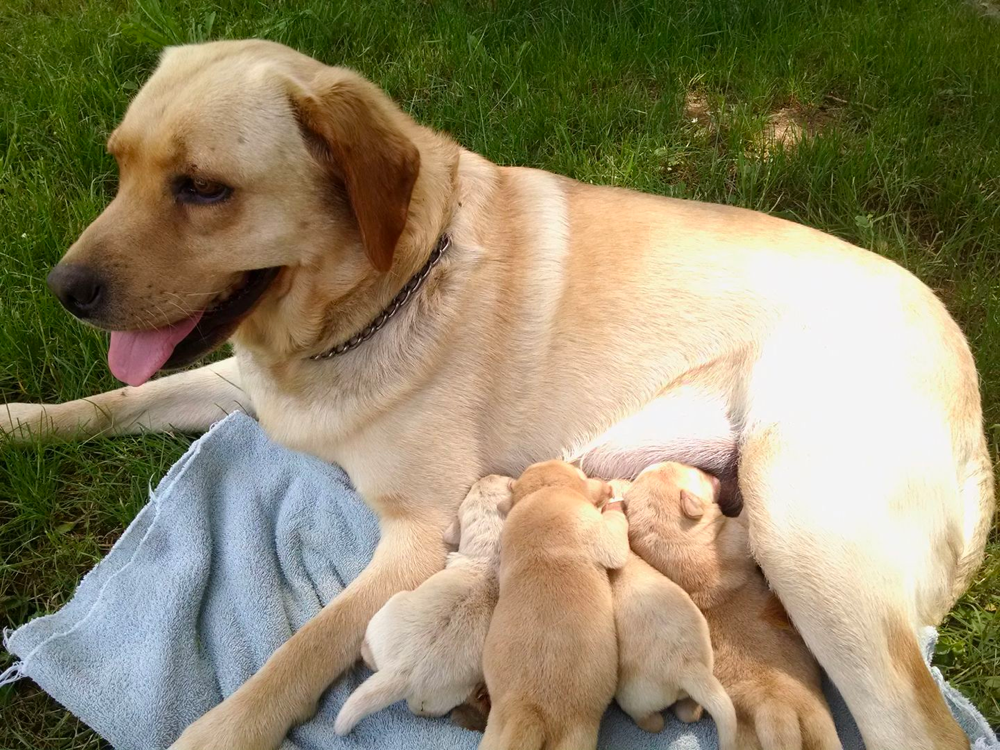 Home of Labradors is a small Labrador breeder located in the beautiful area of Greer, South Carolina. Julia the owner of Home of Labradors has been successfully breeding and selling puppies for over 10+ years. Home of Labradors offers breeding for both English and American Labradors. All the puppies are AKC registered with champion bloodlines. Home of Labradors has one massive main goal for their customer and that goal is to provide healthy, well-mannered, intelligent, and kind-hearted personality puppies. All puppy purchases from Home of Labradors require a non-refundable deposit of $400, which will be added to the total purchase cost of the puppy.
Home of Labradors proudly strives to deliver enrichment and supreme care for all puppies looking for their forever homes. Every puppy purchase will come with a health guarantee, health certificates, OFA for hips & elbows, and AKC pedigree papers. Home Labradors puppies will also go home with their vaccine records and their puppy worming or deworming records. Not only is Home of Labradors very successful with the health care of the puppies but she is also striving to improve the puppy's nutritional values. All puppies are fed premium puppy food and organic goat's milk daily. Feel free to give Home of Labradors a call or email to set up your appointment to meet your new family member!
2. Cedar Swamp Retrievers
Cedar Swamp Retrievers is located in the beautiful area of Lamar, South Carolina. Adam is the proud successful owner of Cedar Swamp Retrievers since 1998. He began his lifelong love and career when he was just 10 years old with his mother and the family yellow female Labrador named Taylor. Growing up Adam would take his pup out duck hunting with him and little did he know he has just begun his life journey as a successful and well-known Labrador breeder. There are a few Interesting facts about Cedar Swamp Retrievers; one fact is that Adam has been a judge for the AKC Master Hunt Testing since 2006. He was able to judge for all three classes; Junior Hunt, Senior Hunt, and Master Hunt. Another very interesting fact about Cedar Swamp Retrievers is that from the years 2007-2012, Adam would humbly help our US military by training dogs for bomb detection.
Cedar Swamp Retrievers is proud to produce high-quality champion hunting bloodlines. All of their puppies are fully health checked, current on all puppy vaccines, and current on either worming or deworming, declaw removal, and microchipping. All of the puppies purchased will come with a 26-month health guarantee as well as AKC limited registration papers and all medical records. To purchase a puppy there is a non-refundable deposit of $300 which will be credited to the total puppy adoption price.
3. Red Barn Retrievers
In Westminster, South Carolina there is a very respectable well-known canine breeder in the Labrador retriever community named Red Barn Retrievers. They are proudly rated high by the South Carolina Labrador groups going statewide. This is an outstanding Labrador breeder that really does go up and above for both client and canine. They share a strong love for all the care required for the breed. Red Barn Retrievers has been in the breeding business for more than 20+ years. They are also very well experienced in training Labradors to be all-around good home dogs. Red Barn Retrievers does offer onsite puppy training upon request. Feel free to give Red Barn Retrievers a call or email to set up a time to meet and greet with the owners and puppies available for adoption.
Red Barn Retrievers always makes sure that every puppy is very well socialized with both people and other dogs. Socializing will help with the training of well-mannered puppies as well as well-tempered personalities. All the puppies are vaccinated and wormed before going to their forever homes. Each puppy will also have a full health examination and medical records. Red Barn Retrievers does offer out-of-state shipping and local pick-up after the puppy purchase is fully approved.
4. Cedar Creek Retrievers
Cedar Creek Retrievers is located in the beautiful hills of Holly Hill, South Carolina on 20 acres of land. Perfect for canine enrichment! They take great pride in their long years of success and hard work to build the empire they now have today. Cedar Creek Retrievers has many great achievements they have obtained over the years such as being a registered breeder for the AKC, certified AKC Canine Good Citizen Evaluator, and awarded "Breeder of Merit" by the AKC. This breeder personally competes in different AKC and UKC competitions for obedience, dock diving, agility, trained service dogs, and trained therapy dogs.
Cedar Creek Retrievers is very professional and organized for all information and records on all their puppies. All puppies go home with their new families with full health exam reports, worming/deworming, vaccinations, declaw claw removals before 5 days old, microchipped, AKC limited puppy registration, and flea/tick prevention. All birthing mothers are hip/elbow OFA certified along with their eyes are cleared by CERF'd tested. Each puppy has blood work done for heartworm maintenance and prevention. Cedar Creek Retrievers offers a 26-month health guarantee for hip dysplasia. They also offer a 12-month health guarantee for hereditary eye disease.
5. Hollow Hills Kennels
Hollow Hills Kennels is located in beautiful Beech Island, South Carolina. The Shear family is a Christian-based Labrador breeder with high values and outstanding professionalism. John and Barbara Shear share a strong love and passion for the Labrador breed for many years. They have been running a very successful business for over 15+ years and counting. Hollow Hills Kennels participates in the UKC and AKC competitions for hunting, obedience, agility, and much more. They hold the UKC hunting training competition title. They take great pride in the fact that they still hold this title to this day.
Hollow Hill Kennels takes great pride in producing high-quality puppies that are healthy and ready to go to their new forever homes! Every puppy is given a health examination, they are current on the shot, current worming schedule, declaw removal, and much more. All puppies are fully AKC registered and fully HR (hunting retriever) licensed. Hollow Hill Kennels offer a 26-month health guarantee for hip and elbow dysplasia. So give Hollow Hills Kennels for your next family member addition!
6. Santy Labradors
Santy Labradors is a proud husband and wife-built hobby Labrador breeder facility located in beautiful Pelzer, South Carolina. Their main income is their landscaping business but their hearts always led them back to their shared love for the Labrador breed. Santy Labradors is stationed on 8 full acres and 1 acre of pond area which is used for top-level dog enrichment and growth. All of their dogs are able to run and roam freely on the property under the owner's approval and supervision. Santy Labradors strives to produce high-quality puppies with champion bloodlines and AKC-registered canine parents. They have been breeding for over 30 years and they breed all colors of English Labradors.
Santy Labradors is offering outstanding canine bloodlines for a stud service fee. Each puppy is given an AKC limited registration and is microchipped. Santy Labradors have a non-refundable deposit of $500 which adds you to the waiting list to purchase a puppy. All puppies are given a full health examination done by a board-certified veterinarian. They offer a 3-day health guarantee via x-rays will cover hip/elbow dysplasia (OFA) and all puppies will have their eyes tested and cleared medically (ACVO).
| | |
| --- | --- |
| Owner(s) | Pedro & Mercedes Olvera |
| Years Breeding | 30+ Years |
| Location | Pelzer, South Carolina |
| Email | [email protected] |
| Phone Number | 864 430 6472 |
| Website | santylabradors.com |
| Facebook | |
7. Greenbrair Plantation
Greenbrair Plantation is in beautiful Brunson, South Carolina between the gorgeous mountains and breathtaking valleys. They breed English labs for their boxy heads and thick otter-like tails with coat colors including yellow and black. All dogs are AKC registered and all records will be included for take-home. Over the many years of business, this breeding facility takes tremendous pride in the highest quality of puppies that have outstanding champion hunting bloodlines and champion show dog bloodlines. Greenbrair Plantations facility is very well maintained inside and outside. They have a very large in/outdoor kennel with multiple dogs runs located on-site, giving each canine a happily enriched life.
Greenbrair Plantation offers every client house and potty puppy training along with additional information about Labrador ownership to take home with them. There is a $250 puppy purchase deposit that includes a 50% refundable offer if there are any issues with the puppy. All of the puppies will have their hip and elbows checked and cleared by a licensed veterinarian before they are adopted. Greenbrair Planation invites clients to pick up their new puppies or to schedule a delivery day with them to drop the purchased puppy off.
| | |
| --- | --- |
| Owner(s) | Jim Burris & Kathy Sliz |
| Years Breeding | 30+ Years |
| Location | Brunson, South Carolina |
| Email | N/A |
| Phone Number | (803) 625-2555 |
| Website | greenbriarplantation.com |
8. Southern Master Labs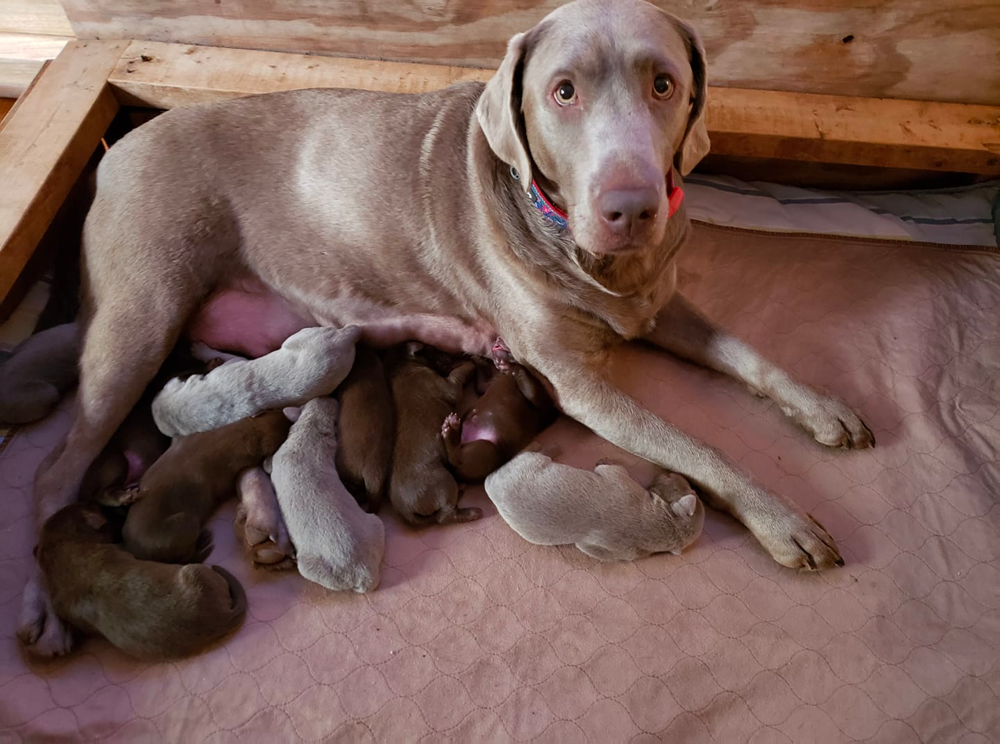 Southern Master Labs is located in the beautiful landscape of Travelers Rest, South Carolina. They are a smaller family own breeding business with over 10+ years of experience working with Labradors. They take great pride in delivering the best of the best puppies and dogs that are involved in the medical and service member fields. Southern Masters Labs also trains puppies and dogs to help aid in different career fields. Over the years they have perfected this breeding skill and have been able to successfully home their canines into amazing families. Many of their puppies are trained to help people with PTSD and other forms of mental health problems too. Southern Masters Labs offers AKC-limited registered puppies with full registration available online.
Each puppy is very well socialized with other pets and humans on location. These puppies are mainly out of AKC champion bloodlines for both hunting arenas and dog show rings. Southern Master Labs requires a non-refundable deposit of $200 upfront, this will automatically add you to the puppy waiting list. The deposit will go towards the total price of the purchased puppy. Each puppy will go home with a 26-month health guarantee for hip/elbow dysplasia, current on all vaccines, worming/deworming, AKC papers, and all medical records. Microchipping is available for an additional $50 and all puppies are to be picked up from the location.
9. King's Ransom Kennels
King's Ransom Kennels is Christian-built and formed from the ground up. This breeding facility has been successfully running for 30+ years. They are located in beautiful Camden, South Carolina on over 125 acres of land. They are very well-known in the show rings and field arenas. They are proud to successfully breed healthy strong English puppies with adorable boxy heads. This breeder is also AKC registered and honored with the "Breeder of Merit" certificate. King's Ransom Kennels has a very strong love and passion for all animals but the Labrador breed stole her heart forever.
Every puppy will have a full health examination performed by a licensed veterinarian prior to all puppy adoptions. All puppies are AKC registered and go home with all their medical records and AKC papers. This breeder offers multiple training sessions for all purchased puppies which include hunting, showing, utility work, and service animals. King's Ransom Kennels also does dog boarding for clients out of town and in need of a dog sitter as soon as possible. If you are looking for a breeder that loves God and dogs then King's Ransom Kennels is the perfect fit for you! Feel free to give them a call or shoot them an email to set up an appointment date and time!
My Top Pick
I believe that Cedar Creek Retrievers in Holly Hill, South Carolina has all the correct requirements I would look for in a great dog breeder locally or state-wide. They offer an amazing opportunity for outstanding puppy enrichment and training for everyday dog traits. This breeder is also located on a beautiful piece of land consisting of 20 acres total. Cedar Creek Retrievers offers multiple health guarantees for hips/elbows dysplasia, clear eyes testing, AKC paperwork, vaccination, declaw removal, and all puppy medical records. So if you're looking for high-quality breeders in South Carolina give this list a review and I hope you find the puppy of your dreams!