If you're reading this article, you probably have decided or are considering purchasing or adding a Bernedoodle puppy to your family. If that is the case, then there's a lot that you would need to consider before picking the right puppy for you or your family. One of these things would be the type of breeder you choose to work with.
As an aspiring dog owner, you certainly would want a Bernedoodle puppy that is of high quality, a very healthy puppy that is well-socialized and also well-tempered. These traits can only be found in Bernedoodle breeders that are reputable. These are breeders that focus more on the puppy's needs and happiness and are not afraid to spend some of their resources to achieve this.
Washington DC is a dog-loving state, with the Bernedoodle being a very popular crossbreed in the capital. Although Washington D.C. does have a lot of Bernedoodle breeders, not all of them are reputable. This is why we provide a list of some great Bernedoodle breeders residing in Washington D.C.
This list should be used merely as a guide toward finding the right breeder and puppy for your and your family. So do ensure you read till the end as we reveal our personal pick from the list.
1. Puget Sound Doodles
We would be kickstarting our list with Puget Sound Doodles. This is an A-class licensed breeder by the USDA. They are also registered with the AKC and are focused on three dog breeds, The Bernedoodle, poodle, and Aussiedoodle. They are quite selective about the Bernedoodles they breed as they only focus on miniature-sized and micro-sized Bernedoodle puppies. All their dogs are raised to be family companions but their high intelligence, well-loving temperament, and eagerness to please make them easily trainable to become service dogs, therapy dogs, and work dogs.
All the puppies are raised in their family home in Skagit Country, Washington, which is located north of Seattle. They are raised as family dogs and as such, each member of the family contributes to the overall socialization of the puppies. They are raised using different puppy enrichment programs and curriculums to help ensure they are well-rounded. The puppies get to play with the family and are introduced to different sounds, textures, and sights that could help with increasing their overall socialization. They also offer training and boarding services for dog owners in the area.
They are registered with the American Kennel Club, and as such, all their dogs are raised according to high standards. Their breeding dogs are all registered with the AKC and carefully selected to help with improving the Bernedoodle breed. Their selection process is focused on three key areas of their chosen dogs, pedigree, health, and temperament. All their dogs have their genetic health checked and tested by paw Print Genetics. They also have their OFA certifications for good hips, elbows, and eyes.
Every puppy they produce should be released to their new family at 8 weeks of age. They should come with a detailed vaccination and deworming record and should each come with a 1-year health guarantee. They also come with a puppy starter kit.
Puget Sound Doodles Contact Details
2. Cloud Nine Doodles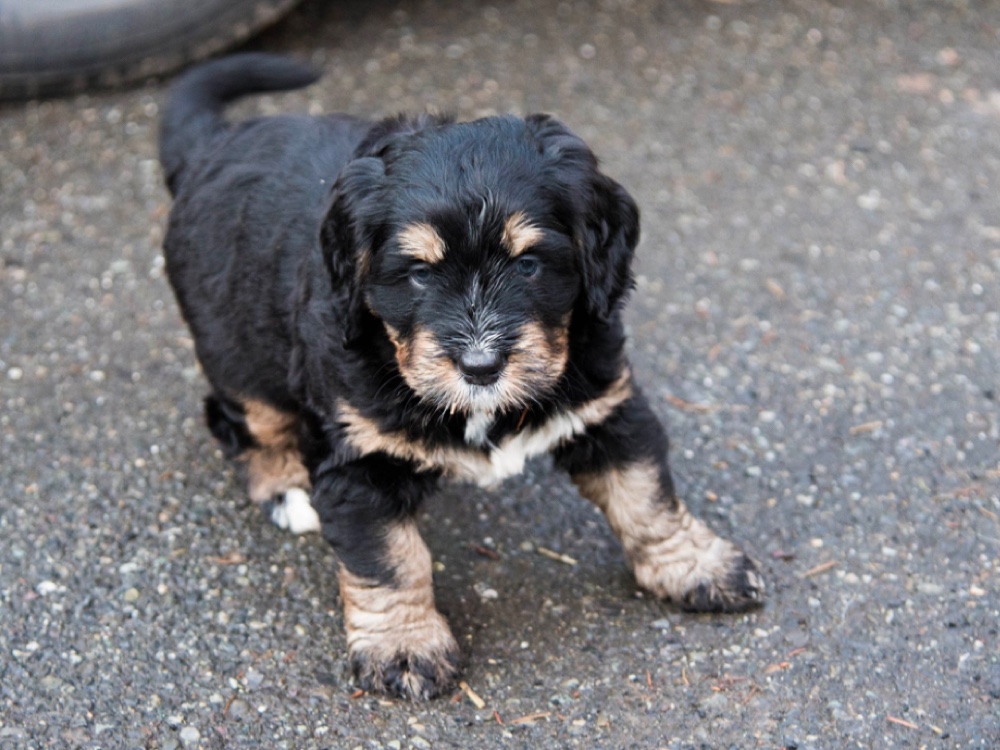 Next on our list is Cloud Nine Doodles. This is another top-rated Bernedoodle breeder located in Washington. They are known for breeding both Bernedoodles and Double Doodles. The breeding facility and program are owned and managed by Sally Powell. They are recognized by Gooddog.com for their exceptional Bernedoodle puppies which are mostly bred as family companions. Sally focuses on every aspect of the puppy's life and ensures they provide top quality all through.
Cloud Nine Doodles gives every puppy a healthy start in their lives by introducing them to Early Neurological stimulation at a very early age. The puppies are raised on a large property in Blaine, Washington that provides them with all the necessary opportunities they would require to fully socialize. All their dogs are raised using puppy culture and they are also introduced to sound and sight desensitization. The puppies are also placed on the right nutrition as they are given good quality kibble and supplements to help boost their growth.
All their dogs also come from healthy bloodlines that are blessed with impressive pedigrees to help with the improvement of the breed. They are mostly raised as family dogs and as such, get to spend a lot of time with their puppies. The chosen sires and dams are genetically health tested, and they also undergo a general health check to be certain they are fit for breeding. Their dogs also have their orthopedic health tested. They have their hips, elbows, and eyes checked by licensed professionals.
Every dog that they produce comes with a 2 years health guarantee, to show they are healthy. They are also properly microchipped, as well as given their dewormings and vaccination shots at the appropriate age.
Cloud Nine Doodles Contact Details
3. Seattle Bernedoodles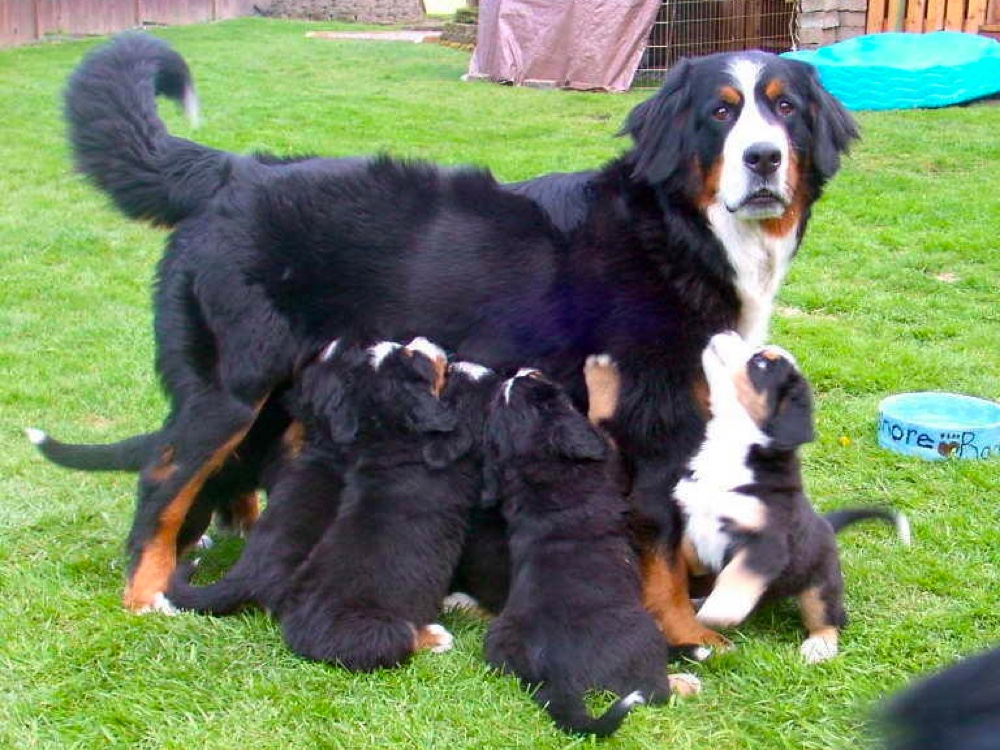 Seattle Bernedoodles are rather new to breeding Bernedoodles. They were once focused on the Bernese Mountain Dog breed but are now focused on Bernedoodles for their hypoallergenic nature. All their dogs are from the first generation of breeding and each are bred to be excellent family companions as they are well-tempered, intelligent, and very healthy. As their name suggests, they are located at the heart of Seattle in Washington DC.
Every puppy is raised in their family home or in a guardian home. This is to ensure that each puppy is given enough of their attention and resources to ensure they grow strong and healthy. All their puppies are allowed to mix and play with people of varying age groups from children to adults. All their puppies are also introduced to new stimulating experiences that could further help in strengthening the breed. All Seattle Bernedoodles are also given basic housebreaking training.
Before they choose an adult dog to be in their program, they extensively researched to ensure they come from impressive lines. The dog is given a full genetic health check and also has their orthopedic health tested each year. They observe standard breeding practices with all their sires and dams, to ensure they aren't overstressed. All their puppies are temperament tested before being sent to their new families.
Your puppy should come with a written health guarantee. They should be vaccinated and given proper deworming at the appropriate age. All their puppies should also come with a puppy starter kit and should be microchipped.
Seattle Bernedoodles Contact Details
4. Pacific Doodles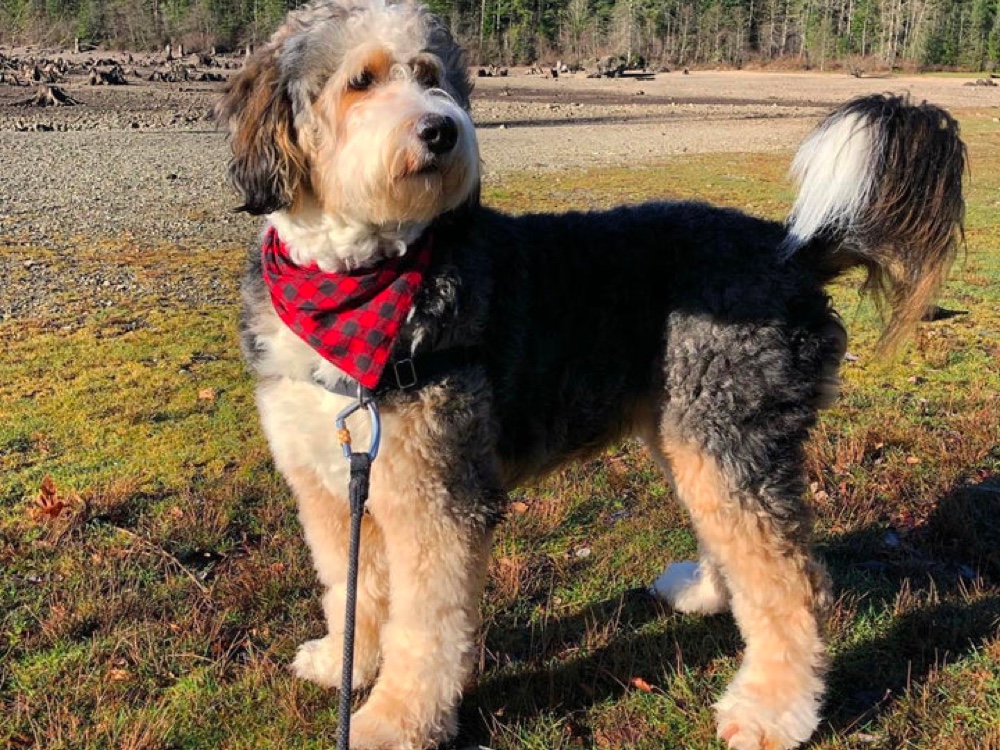 The 4th spot is taken by Pacific Doodles. This is another top breeder of Bernedoodle puppies located in Washington. They are partnered with a variety of organizations like the American Kennel Club and even the Continental Kennel Club. They produce well-socialized puppies that are very intelligent which makes them very versatile dogs as they can easily be trained. However, the dogs are primarily raised to be family companions. Burlington Washington is the precise location for this breeder.
All the puppies they produce are carefully and generously catered for on a large property in Burlington, Washington. Over there, socialization is the priority. All puppies are allowed to interact with people as well as other pets and animals to help them get used to new faces. They are raised using puppy culture and have their fair share of Early Neurological Stimulation, which has proven to be quite good for puppies. All their dogs are given proper introductions to potty and crate training.
They take great care in the selection of each adult dog that is to be added to their program. The breeding dogs are given their full genetic health checks to ensure they are free from genetic health issues that could be transferred to the litter. Paw Prints Genetics is being used for this. The sires and dams also undergo a yearly orthopedic check through the OFA and even have their certifications available to show they have good working hips, elbows, and eyes.
Your puppy should be released in its 8th week. They should come with a written health guarantee, an updated record of their vaccinations as well as their dewormings. They should also be microchipped.
Pacific Doodles Contact Details
5. Savvy Bernedoodles and Bernouviers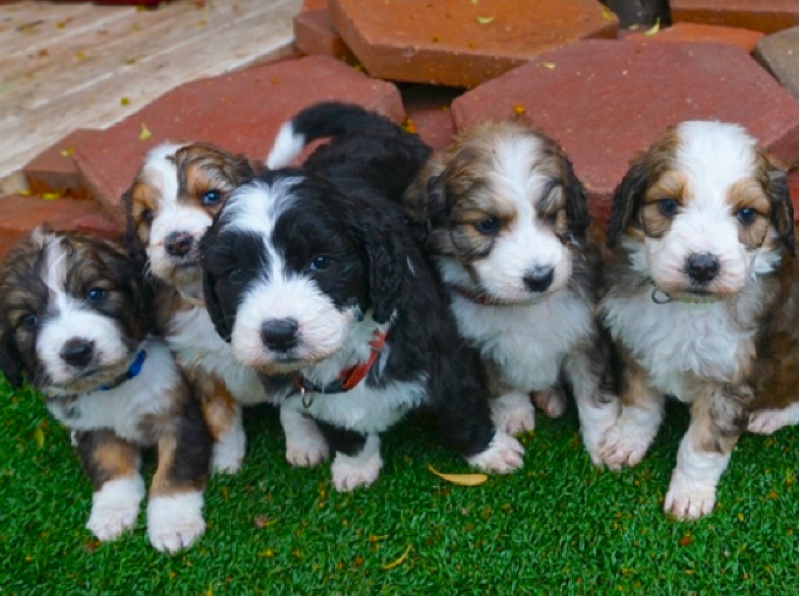 Savvy Bernedoodles and Bernouviers would be taking the 5th spot on our list. This is a family-operated breeder that is focused on producing true family companions. They recently moved to the happy town of Spangle, Washington but have been long-time canine breeders. They have over 10 years of breeding experience behind them and they have proven to be in love with the Bernedoodle breed.
They are located on a very spacious 78-acre property in Spanngle, Washington. This is their family home where all the puppies are given tender love and care. The puppies are allowed to roam safely around the home where they are exposed to a lot of stimulating experiences and faces. They also run training services for puppies in the area as well as their dogs, so you can expect a well-rounded family dog.
Every new puppy that is being produced, is raised according to high breeding standards. The breeding parents are mostly purebreds that are from impressive lineages with equally impressive pedigrees to show for it. They are fully health checked for genetic health issues that could cause trouble for the newly produced litter and each dog is given the full orthopedic check each year. This includes the heart, hips, elbows, and patellas.
The puppies would be given their vaccination shots in the 12th week. They should come with a starter kit containing food samples, they should also be microchipped and should be properly crate and potty trained.
Savvy Bernedoodles and Bernouviers Contact Details
6. Camp Doodle Woods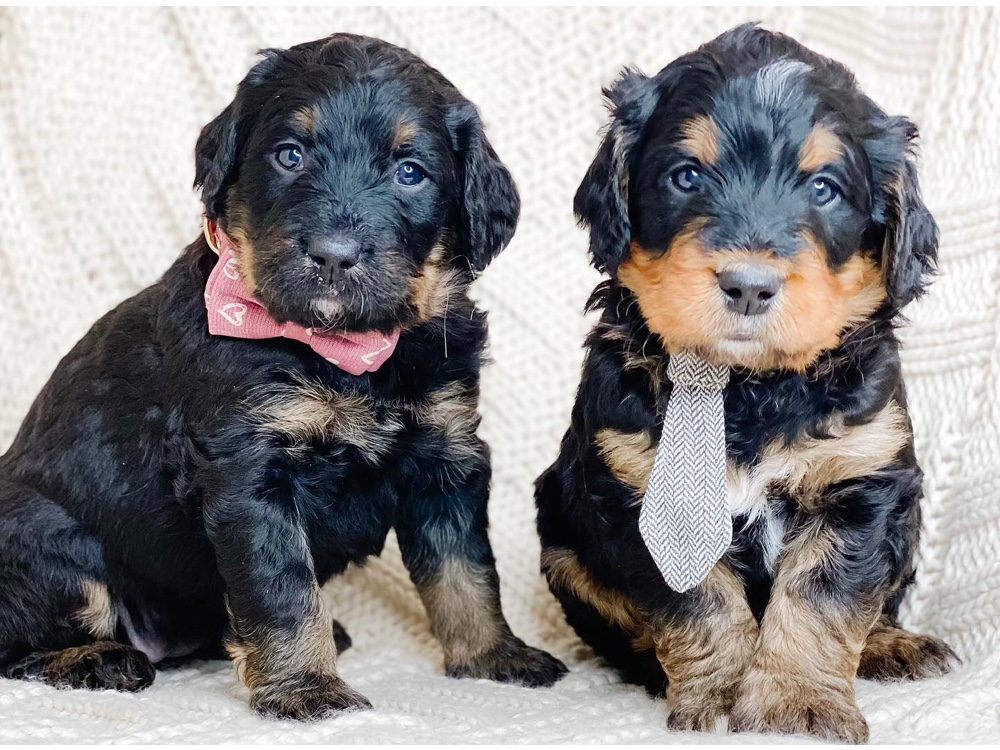 Camp Doodle Woods is the last Bernedoodle breeder to be added to our list. This breeding facility is owned and managed by Tracy Woods. They are located in Pasco, Washington, and are focused on producing great Bernedoodle dogs that are quite versatile. Most of their dogs are trained as service dogs, therapy dogs, and family companions. They are recommended by Gooddog.com and are certified Badass Breeders.
All Camp Doodle Woods dogs including the breeding dogs get to live in Pasco, Washington with the family. They are raised using the Badass breeder training curriculum and are provided with a variety of desensitization programs to help with improving their puppies. One such program is the Early Neurological Stimulation, which each puppy undergoes at an early age. They are given good quality food and are given litter box training.
Their sires and dams are well-researched dogs. They have traceable lineages that come from impressive championed dogs. They are blessed with high intelligence as well as a wonderful temperament. The dogs are genetically health tested to help protect the puppies from health issues that could affect the overall quality of life they enjoy.
All puppies would undergo a temperament test before leaving for their new families. They should each be properly vaccinated and dewormed starting from 2 weeks of age. Their dogs should also be microchipped and should each come with a 2 years health guarantee.
Camp Doodle Woods Contact Details
My Top Pick
With all that has been said so far, my personal pick from the list of Bernedoodle breeders above is Puget Sound Doodles located in Skagit Country, Washington. Even though they are quite new to breeding Bernedoodles, they do show promising signs as reputable breeders.
The fact that they are rated A-class by the USDA is quite impressive, also they have standard breeding practices and programs that do show their commitment to the breed. Their parent dogs are all registered by the AKC which inspires trust and their dogs are properly socialized.
Still, we heavily recommend that you carry out personal and detailed research on any of the breeders listed above before choosing to work with or patronize them. Visit their facilities, ask the right questions, demand the right certifications, and basically get familiar with the breeder and the puppies before you decide if to work with them or not.
That is all we have for you in this article. You can find more informative and engaging articles like these on the website.