Bernedoodles are quite frankly, one of the best family dogs you can have with you in the United States or anywhere else. They are loving creatures that are known for their hypoallergenic coats, playful nature, high intelligence, and overall work ethic. In addition to that, Bernedoodles are also very versatile dogs. They can be used as service, and therapy dogs and even make great contenders as show dogs.
Although the Bernedoodle's popularity in the United States is fast rising, for a state like Massachusetts, there are only a few breeders of the beloved doodle breed residing in the state, and not all these breeders are reputable breeders interested in breeding high-quality puppies with good temperaments.
In this article, we provide a list of some good Bernedoodle breeders residing in the state of Massachusetts. These are breeders with impressive breeding programs, good training curriculums, and socialization protocols designed to improve the Bernedoodle breed. It is worth stating that this article should serve only as a guide toward finding the right breeder for you. Always remember to do your proper research before getting involved with any breeder.
With that being said, do ensure you read till the end, as we reveal our personal pick from the list of great breeders below.
1. Massachusetts Bernedoodles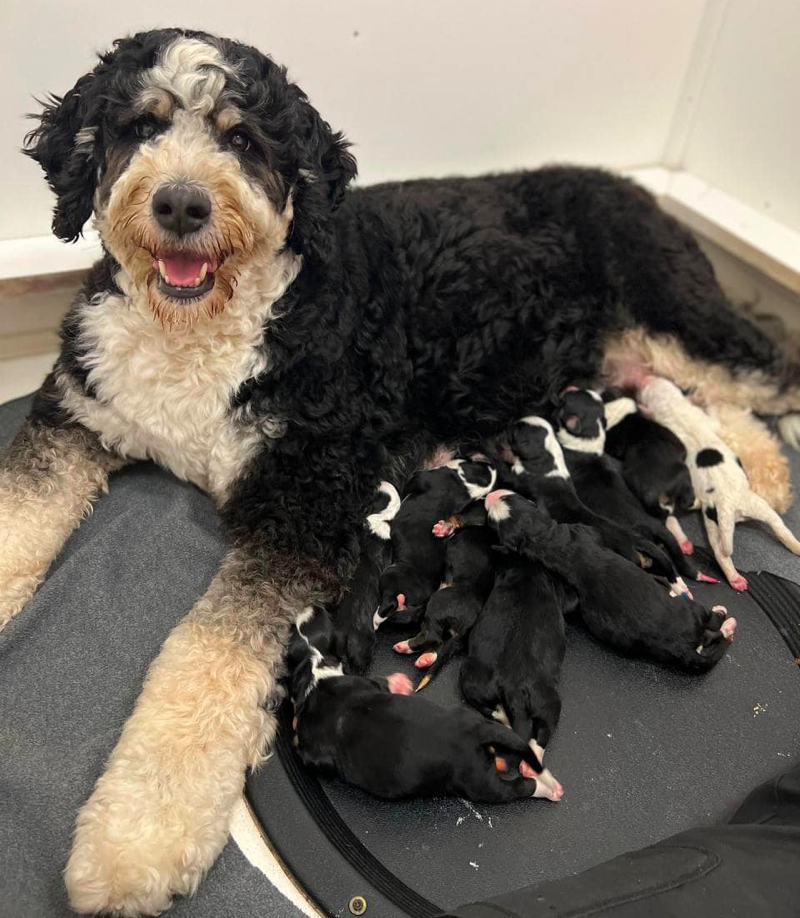 We start off our list with Massachusetts Bernedoodles. Judging by the name you already know they are focused on both the Bernedoodle and the Goldendoodle. They are ethical breeders who are focused on breeding Bernedoodles ranging from standard size to micro or mini sizes. They mostly breed first-generation puppies and their Bernedoodle puppies come in a wide variety or range of colors.
They are located in Ashby, Massachusetts on a large property where both their puppies and the adult dogs are raised. Their adult dogs are mostly purebred dogs as they focus on first-generation puppies. Each dog is properly researched before being added to the breeding program. They have their health checks done by licensed professionals. Which includes both genetic and orthopedic health.
Their puppies get to live in a Kennel-free environment that gives them more than enough space and freedom to roam and explore. The house is fitted with lots of cameras, so they can closely monitor each puppy, they are well-fed and allowed to interact with people, animals, and other stimulating things like sound, sights, and textures.
All puppies should come with a written health guarantee. They should be health checked and have their deworming and vaccinations.
Massachusetts Bernedoodles Contact Details
2. Doodle Litters
Located in Taunton, Massachusetts is Doodle Litters, the next breeder to be added to our list. They are long-time breeders of three main doodle breeds, the Bernedoodle, Goldendoodle, and Labradoodle. They have been breeding dogs since 2007 and all their dogs are wonderful family dogs that are very trainable due to their high intelligence trait.
They raise their breeding dogs in guardian homes to provide rough space, care, and attention to the newly produced Bernedoodle litter. All their sires and dams are first thoroughly researched before being added to the breeding program. They are checked to be certain they come from good families with impressive pedigrees attached to them. They have their genetic health and orthopedic health checks done and even have certifications to show for it.
All their puppies are raised in a family setting in Taunton, Massachusetts. Doodle Litters believe strongly in early intervention and socialization which is why they make use of Early Neurological Stimulation and other socialization protocols to help with improving the breed. Their dogs are also given a great start on basic potty training and crate training so they are well-behaved in their new home. Every puppy should come with a puppy starter kit, full vaccination and deworming records, and a health guarantee.
Doodle Litters Contact Details
3. Western Mass Doodles
The final breeder on this very short list of Bernedoodle breeders residing in Massachusetts is Western Mass Doodles. They are located in Longmeadow, Massachusetts, and are focused on raising both Bernedoodles and Double Doodles. They are very proud of the Bernedoodle puppies they produce as each puppy is blessed with a hypoallergenic coat, high intelligence, and decent temperament.
Taylor Charbonneau is the breeder responsible for this program and all their dogs are raised in the family home. It is a nice property that is not a kennel as they do not believe in raising puppies in kennels. Their puppies are well socialized using a mix of both Puppy Culture and the Badass Breeder curriculum. They also make use of Early Neurological Stimulation, Early Scent Introduction, and Baxter and Bella training tools. The potty and crate-train their puppies too.
Every sire and dam to be added to their breeding program is thoroughly checked for both genetic and general health before being considered for the breeding program. The genetic health testing is done through Embark Genetics and all the dogs are fully checked by the OFA to be sure they have good working hips, elbows, eyes, and hearts.
Western Mass Doodles Contact Details
My Top Pick
My personal pick from the list of Bernedoodle breeders listed in Massachusetts is Western Mass Doodles, run by Taylor Charbonneau and located in Longmeadow, Massachusetts. First off, they have a solid breeding program that prioritizes the puppy's health and development, which is quite impressive.
What is most impressive is their socialization practice. They employ almost every possible socialization curriculum and enrichment tool possible to help ensure all their dogs are properly socialized and trained. Every dog also comes with a health guarantee which is quite good.
With that being said, It is still highly recommended that you carry out personal research before choosing to work with or patronize any of the breeders listed above. Make out time to visit the breeder, interact with your chosen puppy, ask the right question, and even demand the necessary certification.
That's all we have for you in this article, you can check out the website for more engaging articles like these.