If you're living in or around the stunning state of Colorado and are looking for an amazing Bernedoodle puppy to bring into your family, we've got you covered. We're about to dive into a list of some of the finest breeders in the state, that go above and beyond in order to produce healthy Bernedoodles with amazing temperaments. If you're wondering what a Bernedoodle is exactly, these wonderful dogs are created when you breed the gentle Bernese Mountain Dog to the intelligent Poodle.
Finding a good breeder can be a hard task, one that shouldn't be taken lightly, and isn't often done in a day. While it can be tempting to send a deposit for that cute puppy you've seen posted on a website, always look into the background of that breeder first and see if there are any testimonials. A good breeder should be health-testing their dogs and will ideally offer a health guarantee of some sort, this is very important in reducing the chances of the puppies inheriting any illnesses from their parents.
We know your dreams are being filled with your future family member, and we hope that this list might help you get a little closer to fulfilling that dream!
1. Haystack Bernedoodles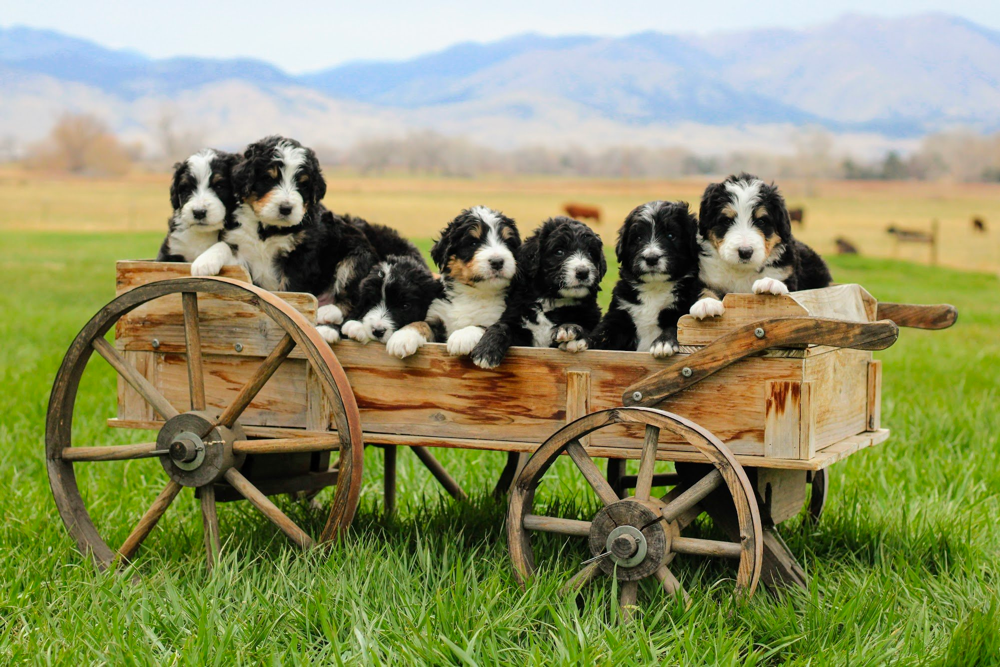 A healthy puppy goes beyond just the parents, this is a fact that every reputable breeder knows. Haystack Bernedoodles is a special program because the Bernese Mountain Dogs used in their breedings come from pedigrees that can be traced back for generations, with many of them being show conformation champions. Kinsey's mother is a long-time, well-respected, BMD breeder, that has allowed her lines to be used to produce puppies for Haystack Bernedoodles.
Health is very important to this breeder, as they hope that with responsible breeding and ongoing testing they will continue to decrease the chances of their puppies inheriting genetic disorders common within both the BMD and the Poodle. All Haystack sires and dams have had their hips screened through PennHip, and have been cleared through genetic disorders most common in both breeds through Embark testing.
Puppies have been socialized with the family, and Kinsey prefers to get new puppy owners the option to meet and choose their own future Bernedoodle puppy. Before going home, every puppy will have been dewormed and had their first vet of vaccines, and this breeder offers lifetime support to every buyer. She has a Guardian Home Program, you can check out the details on their website to see if you meet the qualifications!
2. Front Range Doodles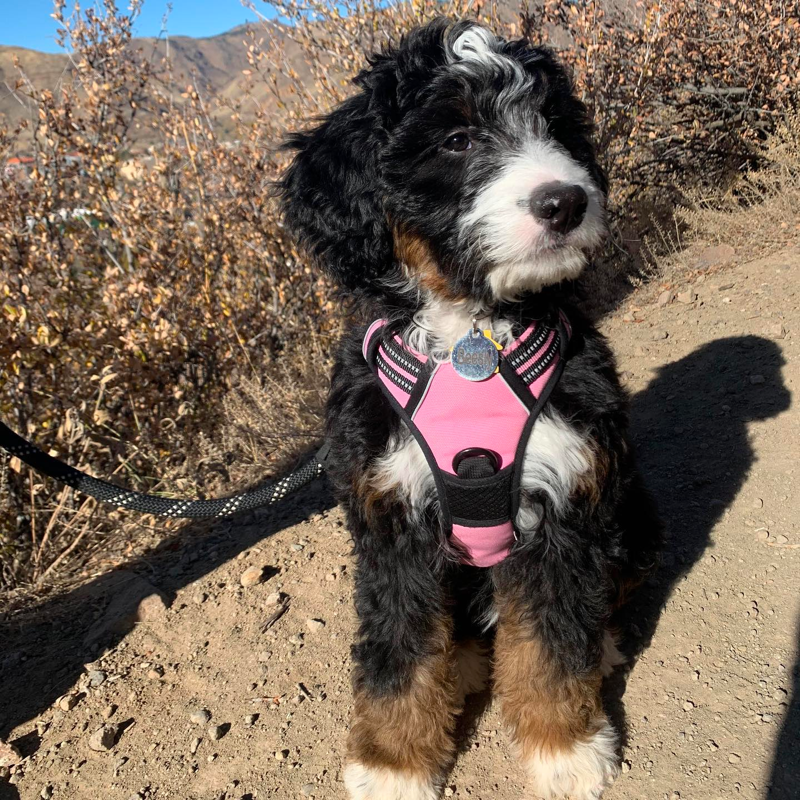 Tucked away in the beautiful town of Fort Collins, in Northern Colorado, is Front Range Doodles. Bernedoodles are known for their teddy bear appearance, the Ramsey's strive to produce puppies with that ideal look without forgoing stable temperament and health. Carole is a second-generation Doodle breeder, as her mom breeds Labradoodles, Goldendoodles, and Bernedoodles, and she has taken this learned experience to better her own program.
Front Range Doodles is a family operation; puppies are raised inside the home, where they're well-socialized in order to prepare them for their adventure with their new family. Parents have had their hips, elbows, and eyes clear through OFA, and undergo genetic testing through Embark. Select potential homes that are local to Fort Collins and might be able to apply as a Guardian home, so be sure to check that out.
3. North 40 Doodles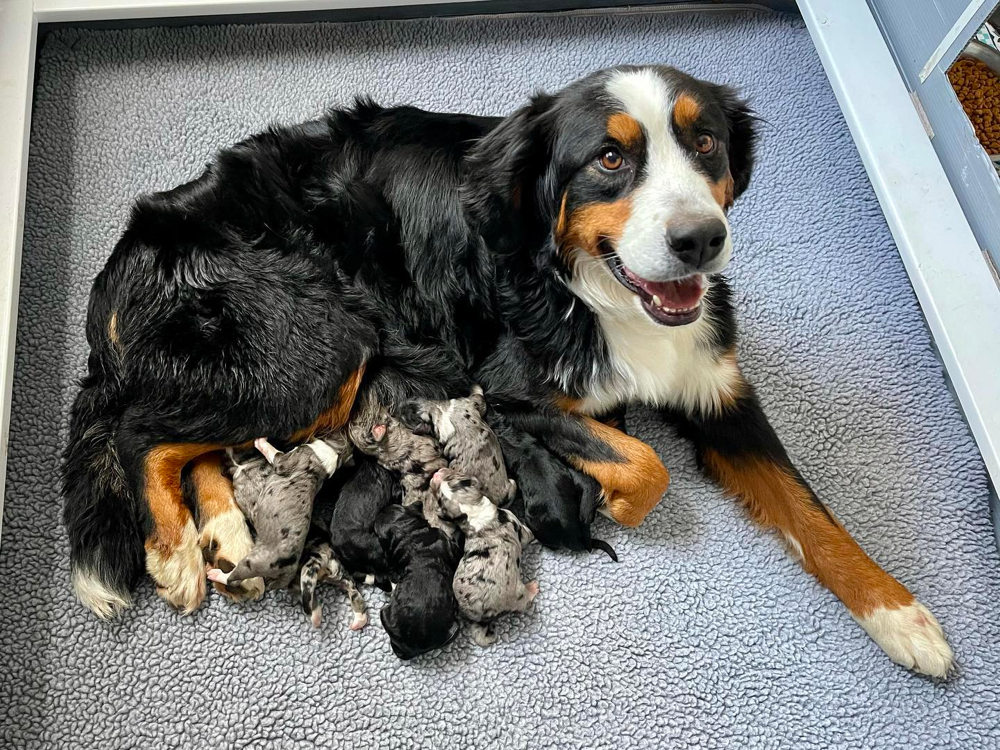 Every puppy is exceptional, but unfortunately not every puppy comes from an exceptional breeder. North 40 Doodles, founded by the Schell family, is one of those few exceptional ones. Each of their puppies is from high-quality breeding stock, and their dogs live with the family rather than in kennels. They exercise by chasing rabbits, enjoying farm life, and often go on vacations like any family pet.
This breeder has many positive reviews and testimonials, which can be found on their website and Facebook page! They're very picky about selecting dogs for their program, and thoroughly health test all of their dogs through OFA and Embark to clear them of any genetic disorders. The Schell family only chooses stud dogs that have also been through all of their genetic and health testing, and have proven to have temperaments true to their breed.
North 40 Doodles offers Bernedoodles, Aussiedoodles, and Australian Mountain Doodles. You can check out their socials for information about their upcoming litters, and a waiting list, and see if you may qualify for their Guardian program.
4. Vandenbark Doodles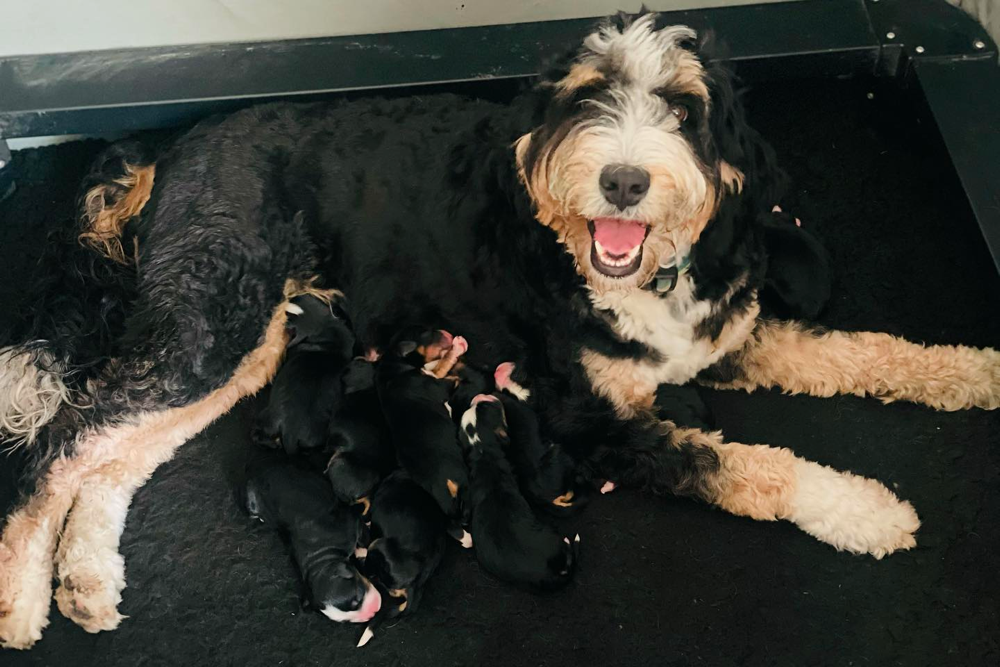 Taylor Vandenbark is the founder of Vandenbark Doodles, where she and her family breed and raise top-quality Goldendoodles, Bernedoodles, and Australian Mountain Doodles. Health and temperament are two very important qualities to Taylor, which she thrives for in every litter of adorable Doodle puppies. Vandenbark Doodles is a Blue Ribbon GANA breeder and is certified Excellent by Good Dog.
She cuts no corners when it comes to health testing, you can find all of the results on her website and Taylor is happy to provide you with more information if asked. Their health testing includes a full genetic DNA panel while hips, elbows, cardiac, eyes, and patellas have been tested through OFA. Puppies are socialized with the ENS and ESI programs, which have proven beneficial to a dog's health and temperament. Taylor has done a lot of research about the best way to socialize a litter so she also uses the Puppy Culture program. By the time each Bernedoodle puppy goes home, it's already well-adjusted and has started crate training and house training. These programs help for a smooth transition from their home to yours.
She sells puppies with a 2-year Health Genetic Guarantee and offers lifetime support! Occasionally, Vanderbark Doodles will offer puppies and dogs for a Guardian home.
5. Daisy Hill Bernedoodles
Daisy Hill Bernedoodles makes the fifth spot on our list of superb Bernedoodles breeders in the beautiful state of Colorado. Husband and wife team Randy and Cat Parker run this program and don't consider themselves a "kennel", but rather a small, privately owned family unit. Their dogs are part of the family; they live in the house, cuddle on the couch, and go on family outings. These are breeders that know what they're doing and are devoted to producing top-quality mini and standard Bernedoodle puppies that will have long healthy lives.
This breeder specializes in F1 Bernedoodles, which means that the puppies they produce are bred from purebred AKC or CKC-registered Bernese Mountain Dogs and Poodles. They offer mini and standards, with waiting lists open for both varieties. Daisy Hill prefers the traditional colors and markings of the BMD, so most of their litters end up being tri-color. Randy and Cat ensure that their puppies won't inherit any genetic disorders or illnesses that can shorten their lives through rigorous health testing of not only their dogs but any outside studs they breed to.
All puppies have had their dewclaws removed and are microchipped, and are vaccinated and dewormed before going to their new homes. They come with a two-year health guarantee and are sold on a strict spay/neuter contract.
6. Mountain Poppy Bernedoodles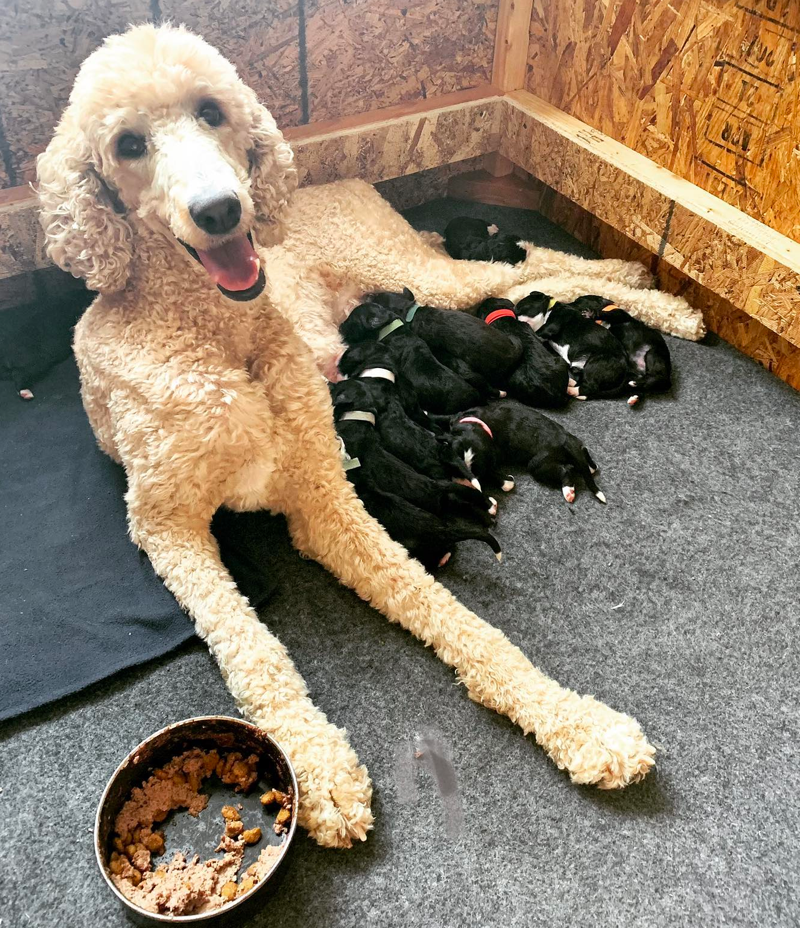 We've reached the end of the list of superb breeders of Bernedoodles in Colorado, a spot reserved for Mountain Poppy Bernedoodles. They've got a mission to produce high-quality, healthy, and social puppies for families at a reasonable price… because good quality shouldn't come at a price that will break the bank. Located in the town of Bueno Vista, Kaya offers F1 Standard and F2b small and medium Bernedoodles.
She only breeds dogs that have undergone complete health testing, which includes a DNA test through Paw Print Genetics. Each dog also has their hips, heart, and thyroid screened through OFA. You can find all of the information and results of the tests on the Mountain Poppy Bernedoodles website. While Kaya allows you to choose your puppy, she encourages each buyer to consider temperament over looks. Puppies are given a temperament test when they're seven weeks old, and the results are shared with the buyers.
Their Bernedoodle puppies are socialized using the Badass Breeder Curriculum by Jeanette Forrey. This program has shown to be extremely beneficial to puppies as it makes them confident and easier to train.
My Top Pick
Bernedoodles don't have decades of expertise behind them like other breeds, but there are already breeders aiming to produce puppies that are just as good of quality as their purebred cousins! We implore you to do thorough research when looking for a breeder and to ask questions during the entire process. Breeders should always be willing to answer and provide proof where needed. You can even confirm OFA results yourself through their website.
While I believe that all of the above Bernedoodle breeders in Colorado produce high-quality, healthy puppies, I'm drawn to Haystack Bernedoodles in particular. Genetics and pedigree are important when it comes to producing healthy dogs, and Haystack's lines include some of the finest champion Bernese Mountain Dogs. You can tell that they are knowledgeable about what they're doing and truly care about their dogs, along with every Haystack puppy.