Temperatures are dropping, and in many parts of the country, this is one of the nicest times of year to get out and exercise! Cooler daytimes temperatures, beautiful changing leaf colors, and the awareness that snowed in days are coming, all motivate us to get out for a nice walk. Make sure that your walks are as pleasant and safe as possible with this easy guide.
You may find that your best friend is so frisky on these cooler mornings that there's nothing you can do to say no to her. Here are some fun activities to do with your dog in this lovely weather, including some indoor activities for the first snow days of the season.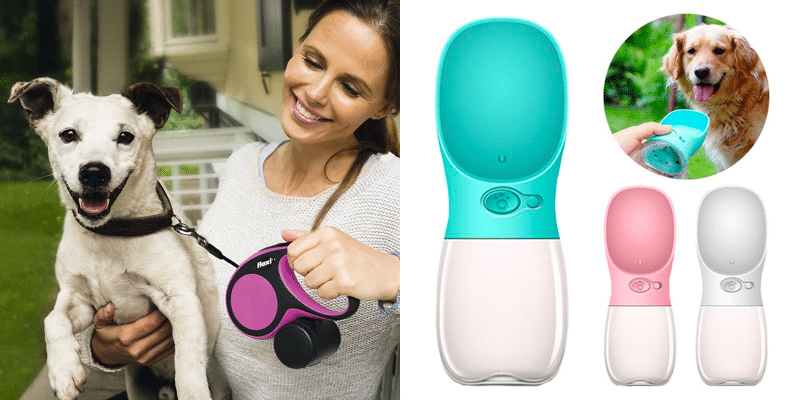 As if the lovely weather wasn't enough incentive, we're offering some useful tools for walking your dog. In this Giveaway, one lucky winner will get both of these great prizes shipped to your home at no charge to you.
Flexi New Classic Retractable Dog Leash
M&M Dog Water Bottle for Walking
How To Enter Our Giveaway
Enter this FREE Giveaway to Win Great Tools For Walking Your Dog Safely
It's easy! Just follow these three simple steps.
LIKE or FOLLOW our Facebook page
Go to the Facebook post for this Giveaway and like, leave a comment or share it.
Login to the widget below by using email and earn more entries.
Retractable Leash and Water Bottle for Dog Walking

We'll contact you via Facebook or Email if you're the lucky winner. Don't wait to enter– the giveaway ends on November 12th, 2018!
Prize 1: Flexi New Classic Retractable Dog Leash
The Flexilead has become a new standard in the dog-owning community. These convenient leashes let out and take in lead as your dog moves, allowing her much more freedom than a standard leash but still keeping her safely under your control. On these cool days when your dog is too energetic to stay by your side, a flexi leash can let her run out her energy running around you while you enjoy a walk at the pace of your choice. This leash is made by the trusted original maker of retractable leashes, Flexi, and is approved for dogs up to 110 pounds.  Keep in mind that you should only use a retractable leash if your dog is generally well behaved since they don't offer as much control as standard leashes.
Prize 2: M&M Dog Water Bottle for Walking
Staying hydrated is essential for both you and your dog while you are exercising. As temperatures get cooler, we may be less reminded to stay hydrated, but it is still very important that both you and your dog drink plenty of water on your walk. This handy portable water bottle lets you carry water in a leak-free design, and also comes with an innovative bowl attachment that lets your dog lap up just as much as she needs, without wasting water or contaminating the water supply. 12 oz is a good amount for the average walk, without being too bulky or heavy for you to conveniently carry. When you win, let us know if you'd like the blue or pink version for your dog!